From September 19th to 26th I have made a hiking expedition in Sarek National Park in northern Sweden.
Sarek is often called Europe's last true wilderness. A dream adventure for any true nature enthusiast!
This vast national park in the northernmost part of Sweden has no road access and can only be reached on foot or by helicopter. The group met for the first time in Jokkmokk and the opening line of our guide Matti was: "The weather will be terrible. Strong winds, rain, snow and low temperatures". The next day the group and the guide were safely dropped by a wobbly helicopter in the beautiful Rapadalen delta. 
Into the wild.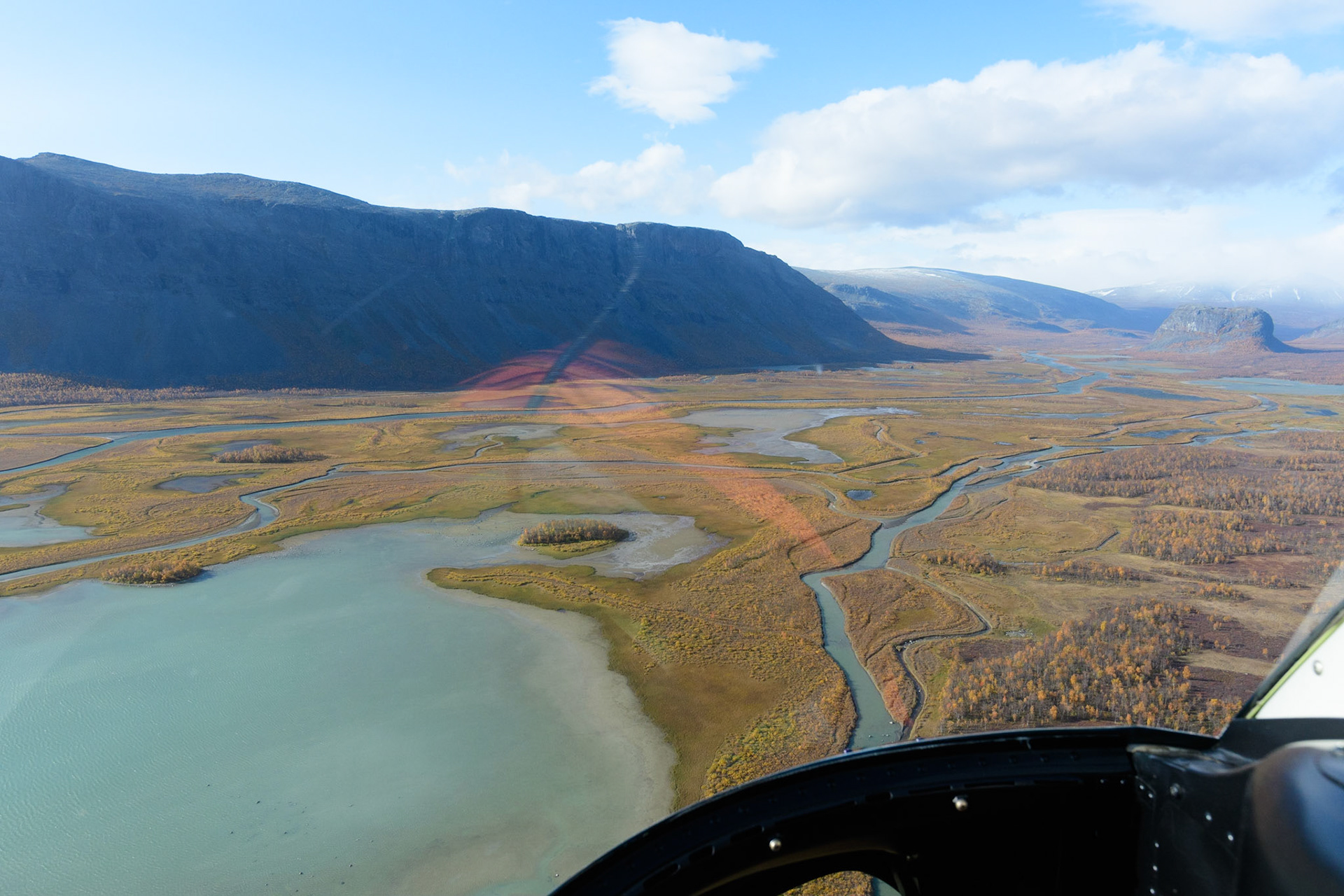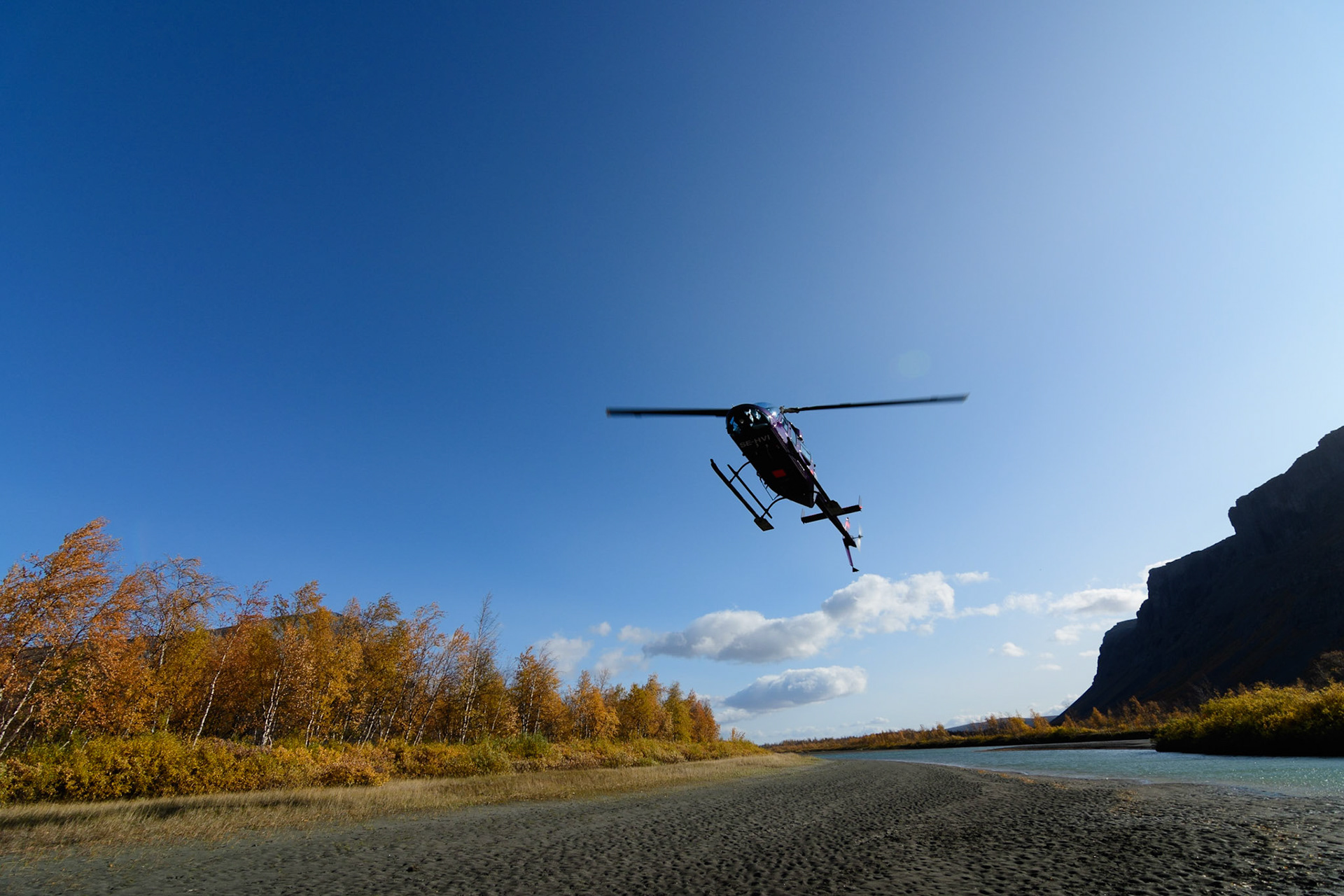 The first signs of the wildlife that lives here are the tracks of a brown bear. Welcome to Sarek.
The autumn colors were stunning an the leaves on the birch trees looked like gold in the sunshine. There was some fresh snow on a distant mountain peak, which was a very nice combination with the blue sky and the yellow leaves.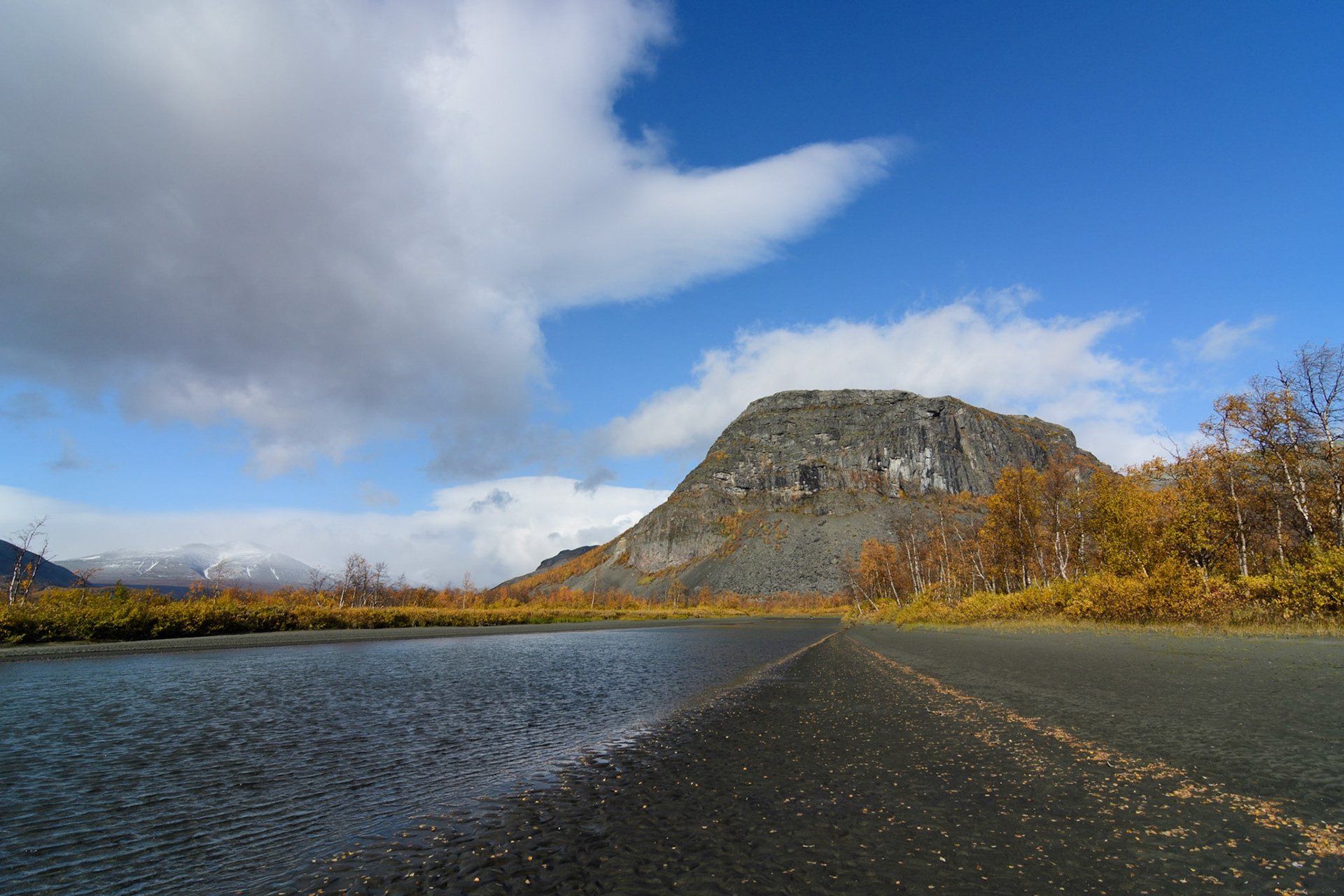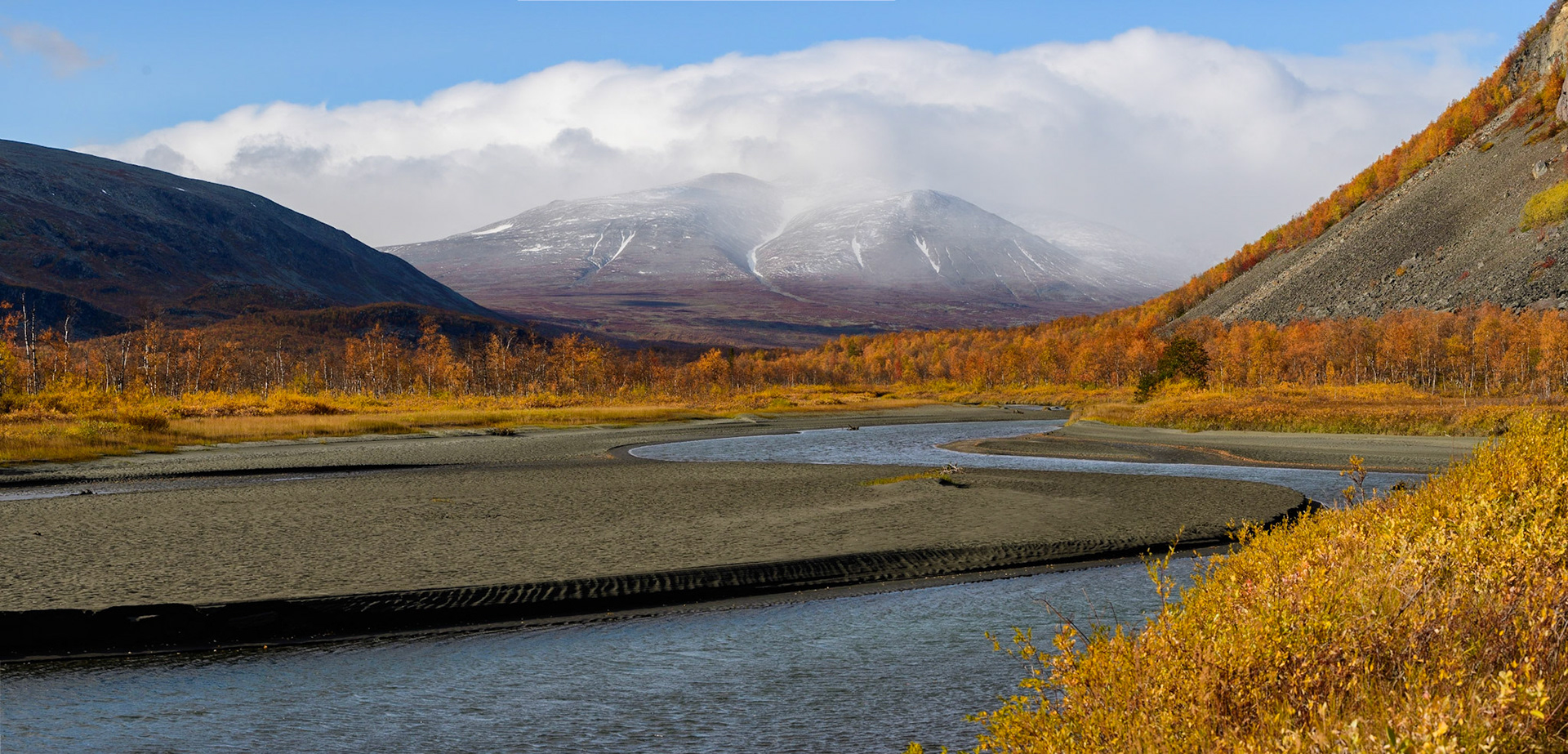 Along the Rapa river we hiked and carried our heavy backpacks with tents, sleeping bags and food for the coming 6 days. We made our first camp in a birch forest close to the shores of the river.
Every member of a team had to carry a blue bag with kitchen stuff and food. That was an extra 5 kg of Knäckebröd, pasta, cookies, bread, squeezecheese, muesli, pulverkaffe and more delicious things. Luckily eating made the weight of the bags lower every day.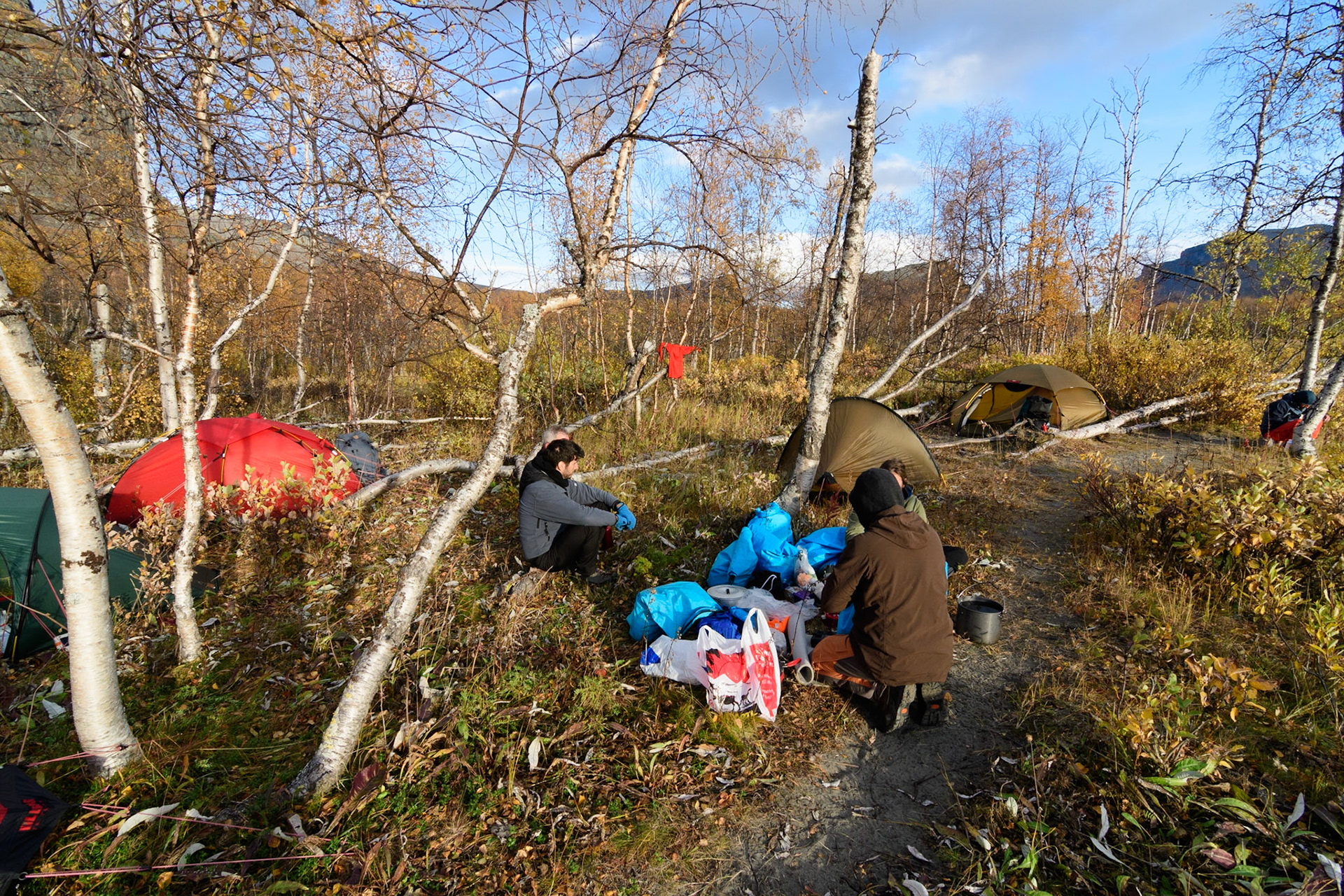 On the next day the weather had changed a bit and we had some snow and rainstorms.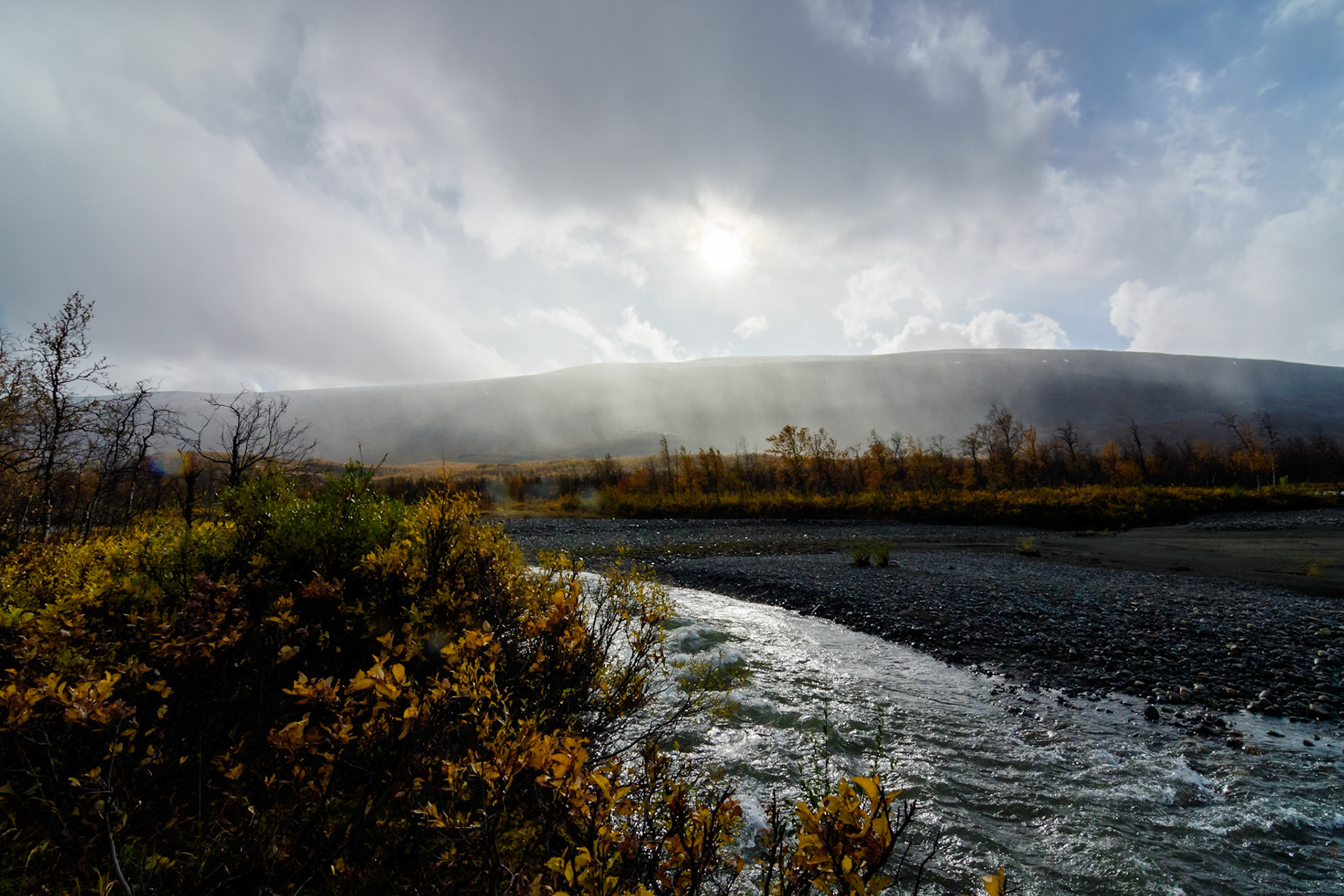 Another new morning. I was out early, hoping to find a moose. Didn't find one, but I saw a beautiful sunrise over Nammásj mountain and the Rapa river.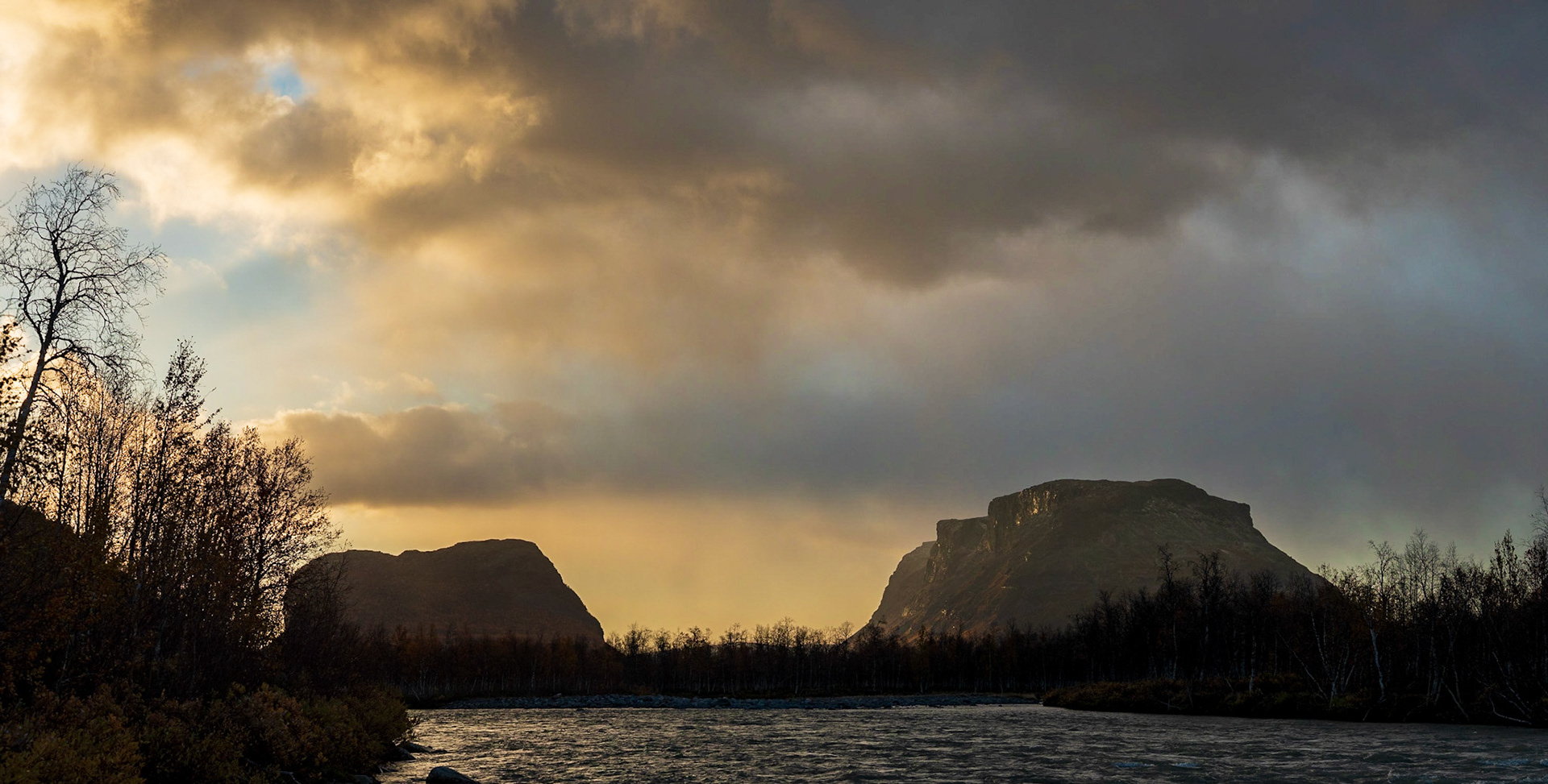 We left the tents in our camp and made an 8 hour and 11 km long hike with some great scenic views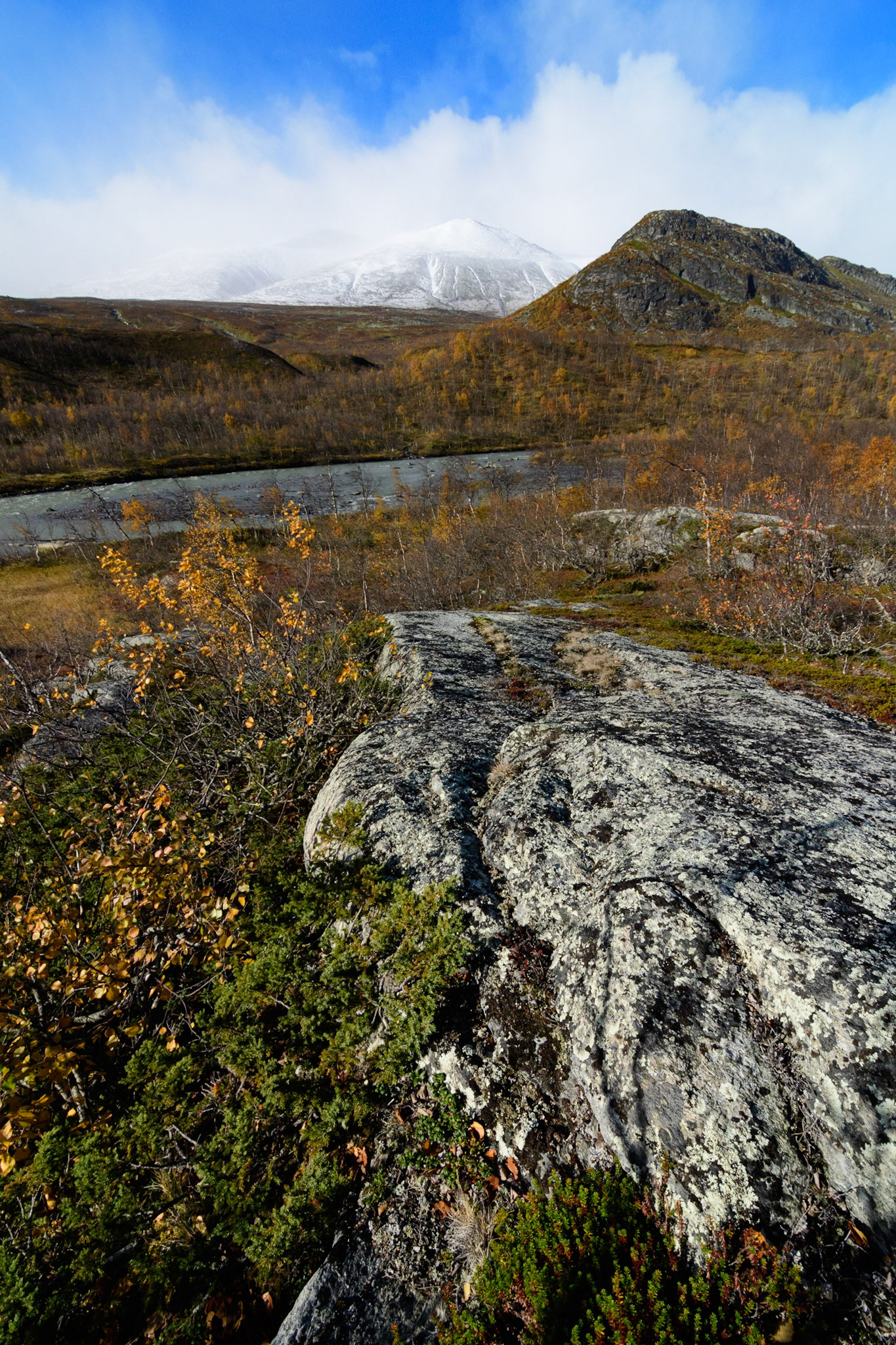 Hiking with this team in those breathtaking landscapes made me compare us to The Fellowship of The Ring.
After a steep climb up and down a mountain we reached this viewing point. Another attempt to find moose (some call them elks) in the valley down below. Again without succes. They had to be somewhere. We renamed the Sarek Elks to Somewhere Elkse. So far we only found tracks and poop of moose, reindeer and bears.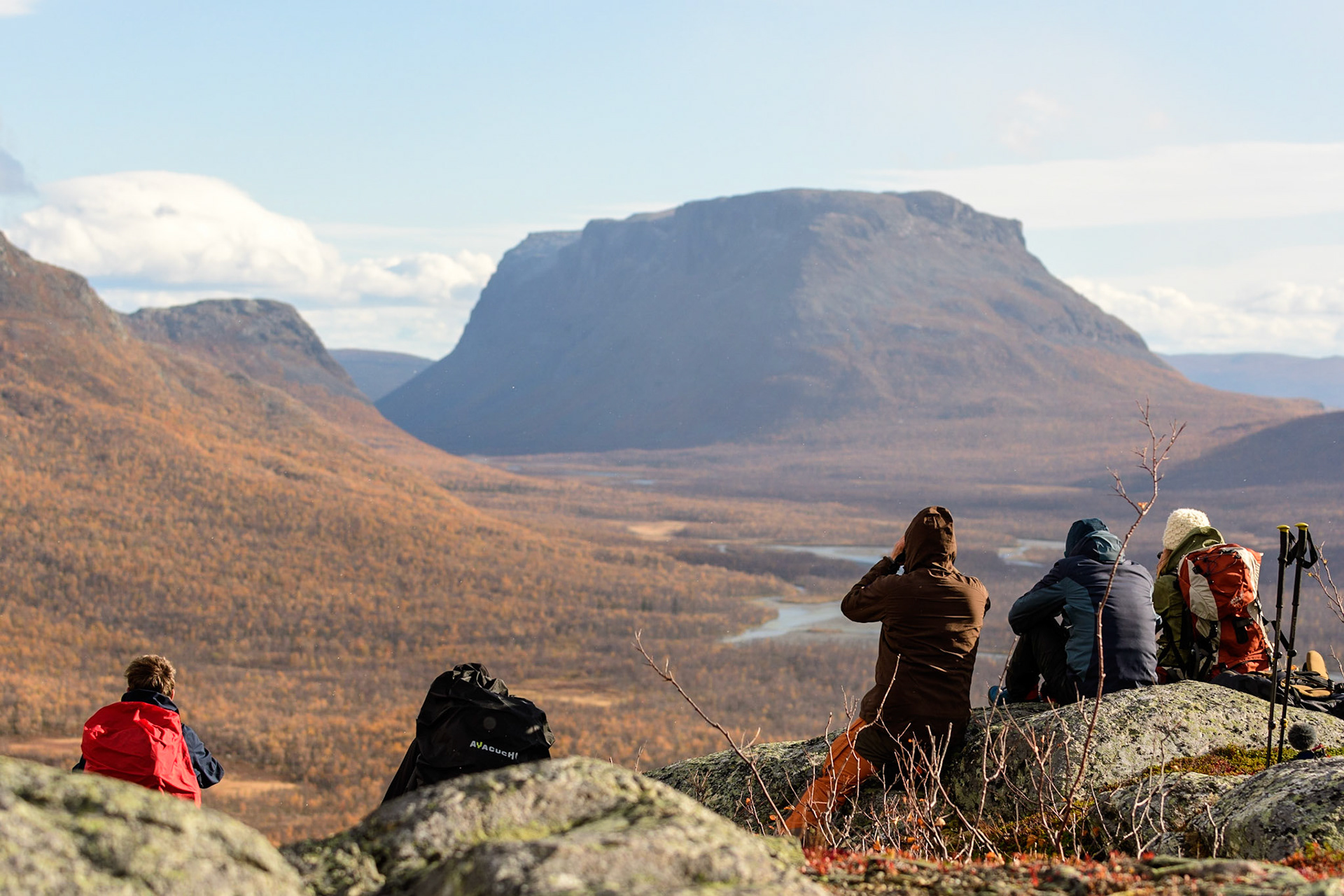 On the morning of Wednesday September 23rd we were treated to a nice layer of fresh snow.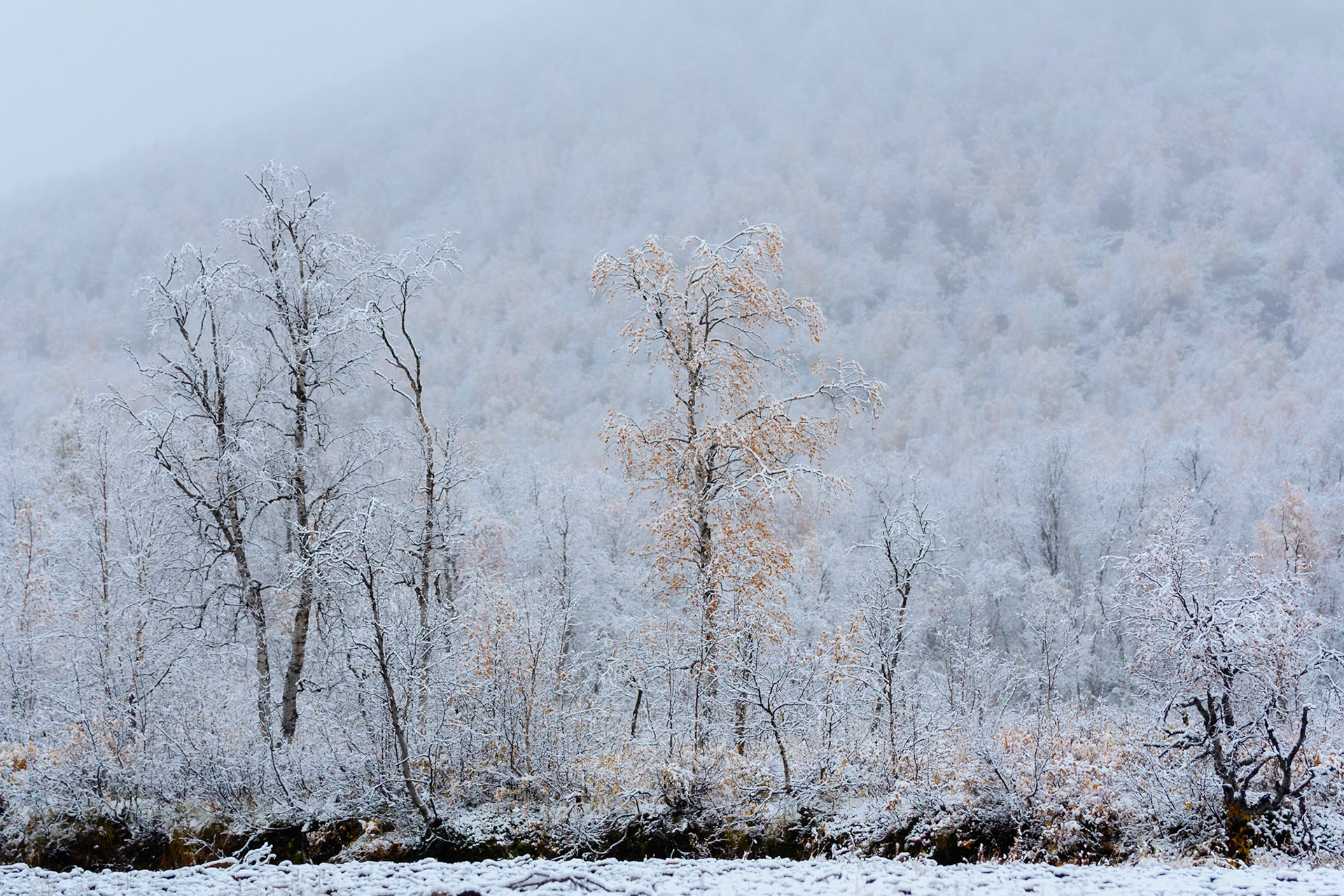 Winter camping in September looks like this.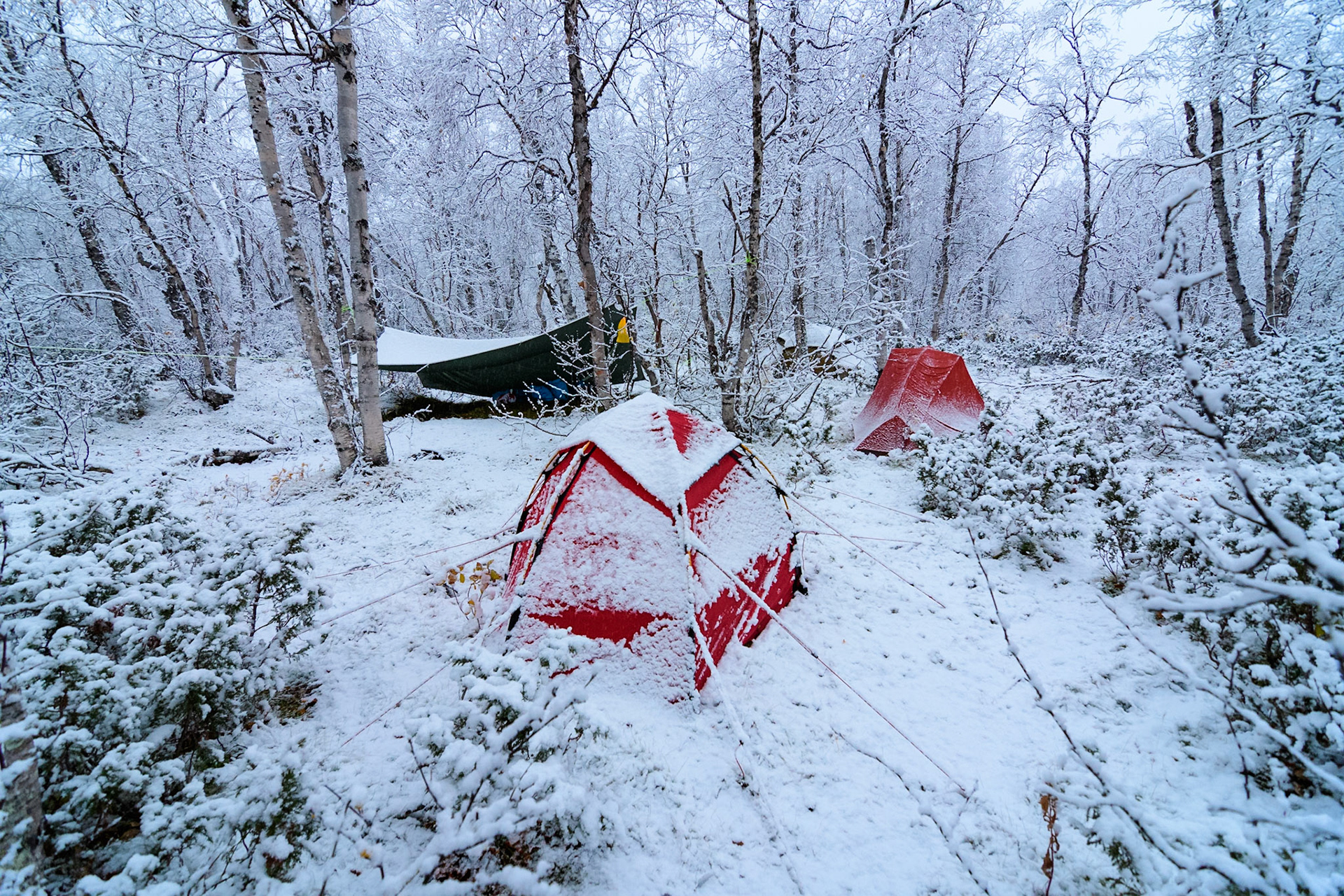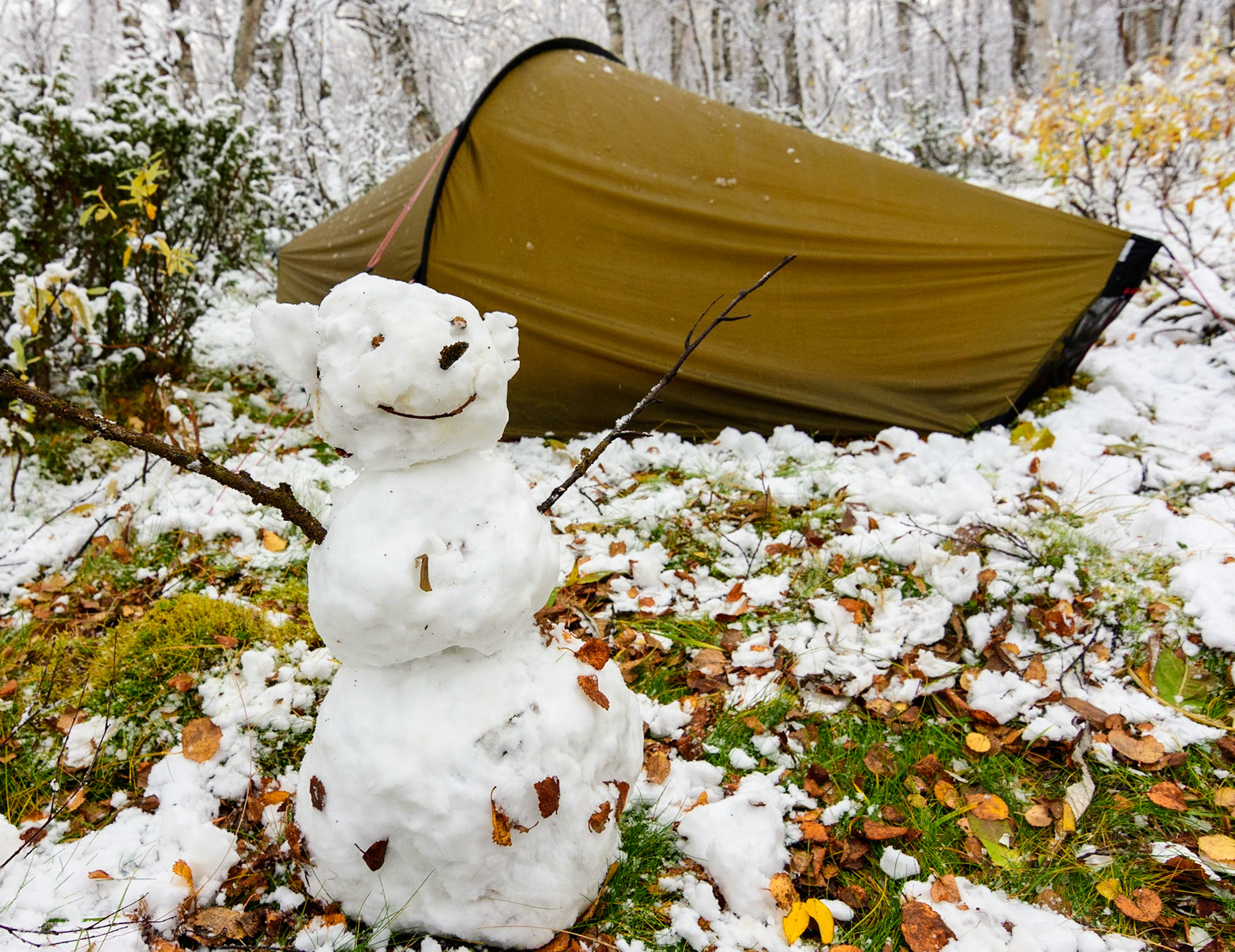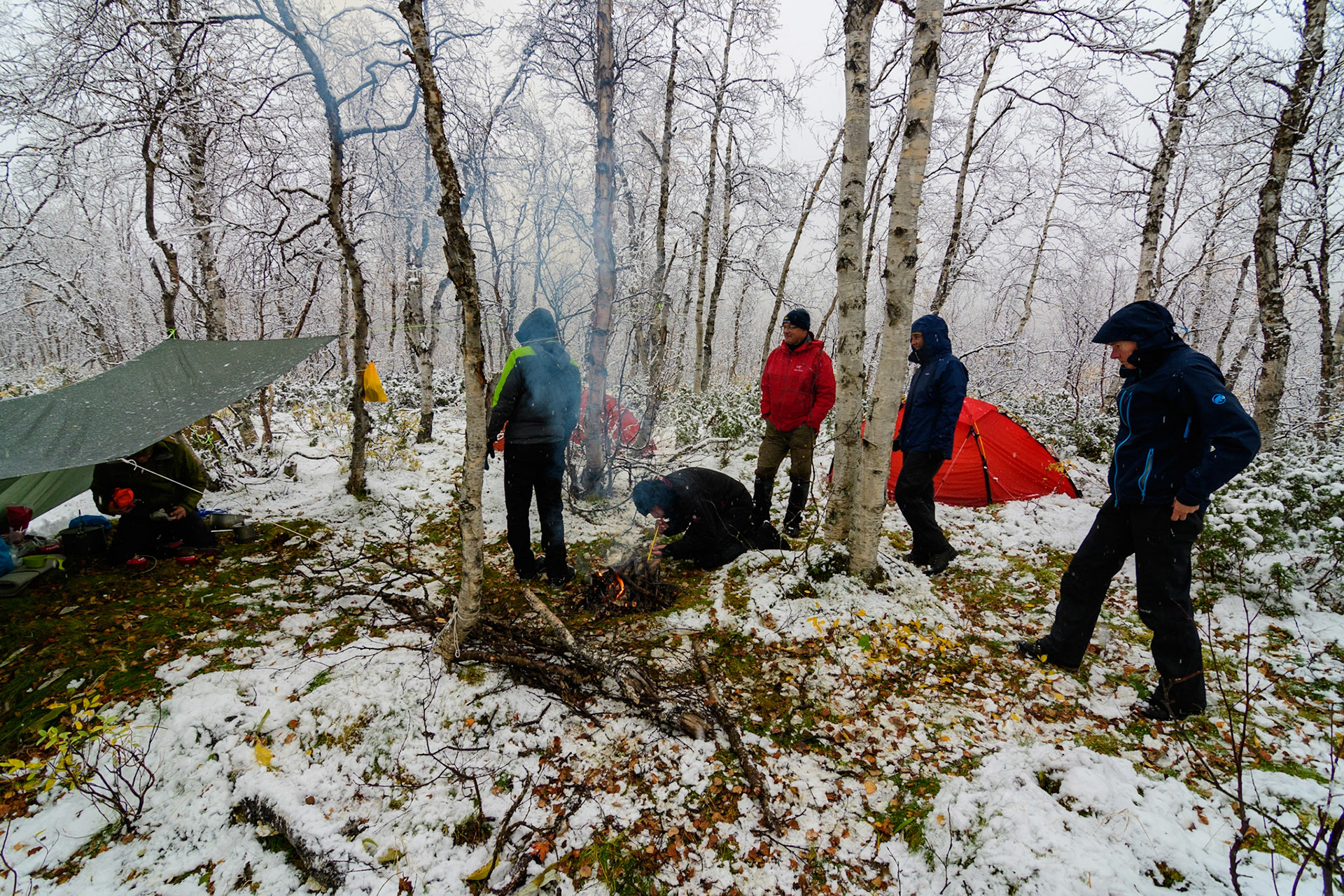 Moving the camp to another place was not a good plan in this weather conditions, so we made a lightweight hike again (6.5 hrs, 4 km).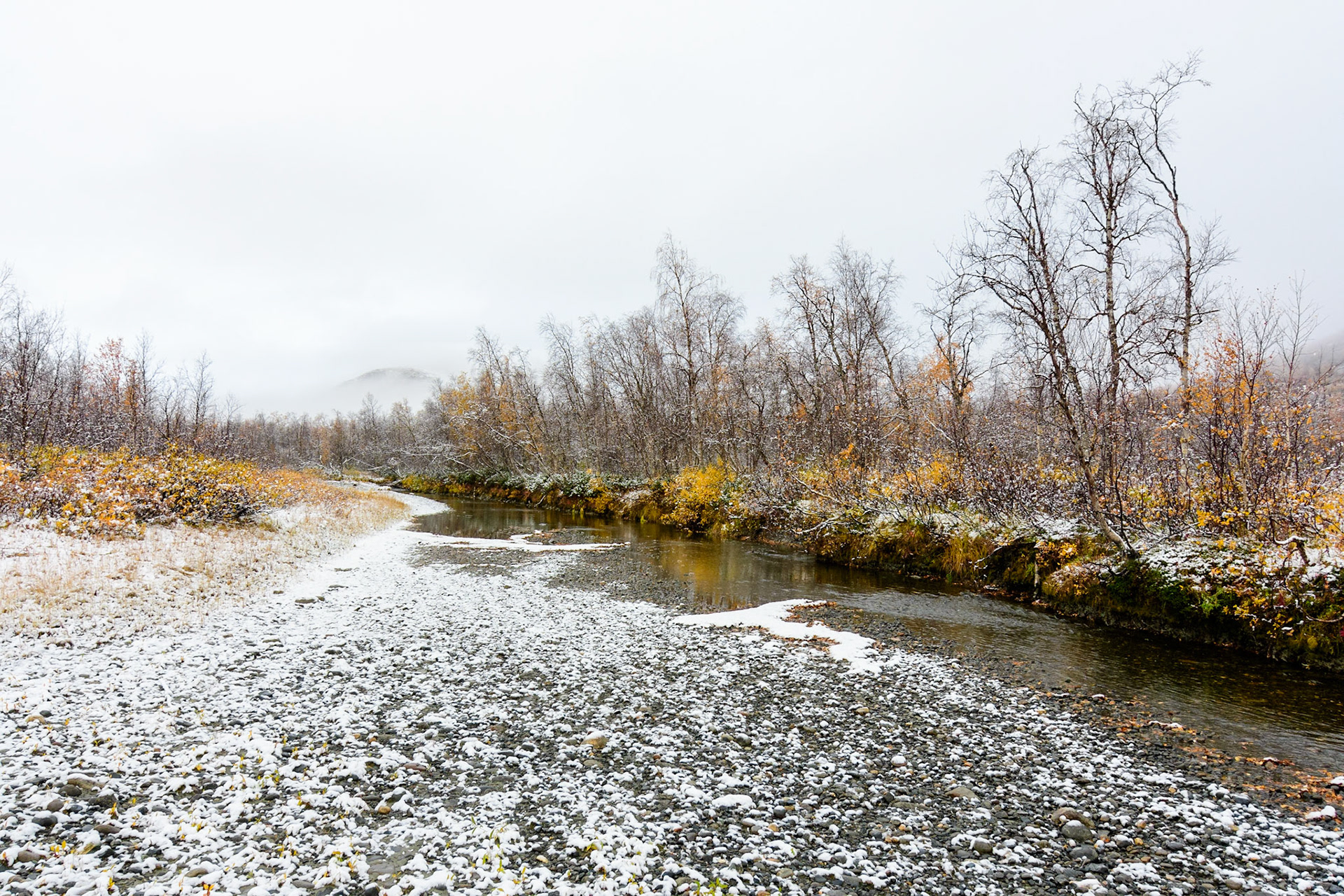 During the day the snow melted.
After the short hike we made another afternoon walk near the camp trying to find a moose. After crossing an open space in the forest the last in the group, Theda,  spotted a big bull moose! At last we found one. We were all so happy and delighted.
Sarek is known for the biggest moose in Europe. Because hunting is not allowed they are not shy, but still they are very hard to find, obviously. When the moose laid down we managed to get closer and he accepted that. What a huge animal it was. A real King of Sarek.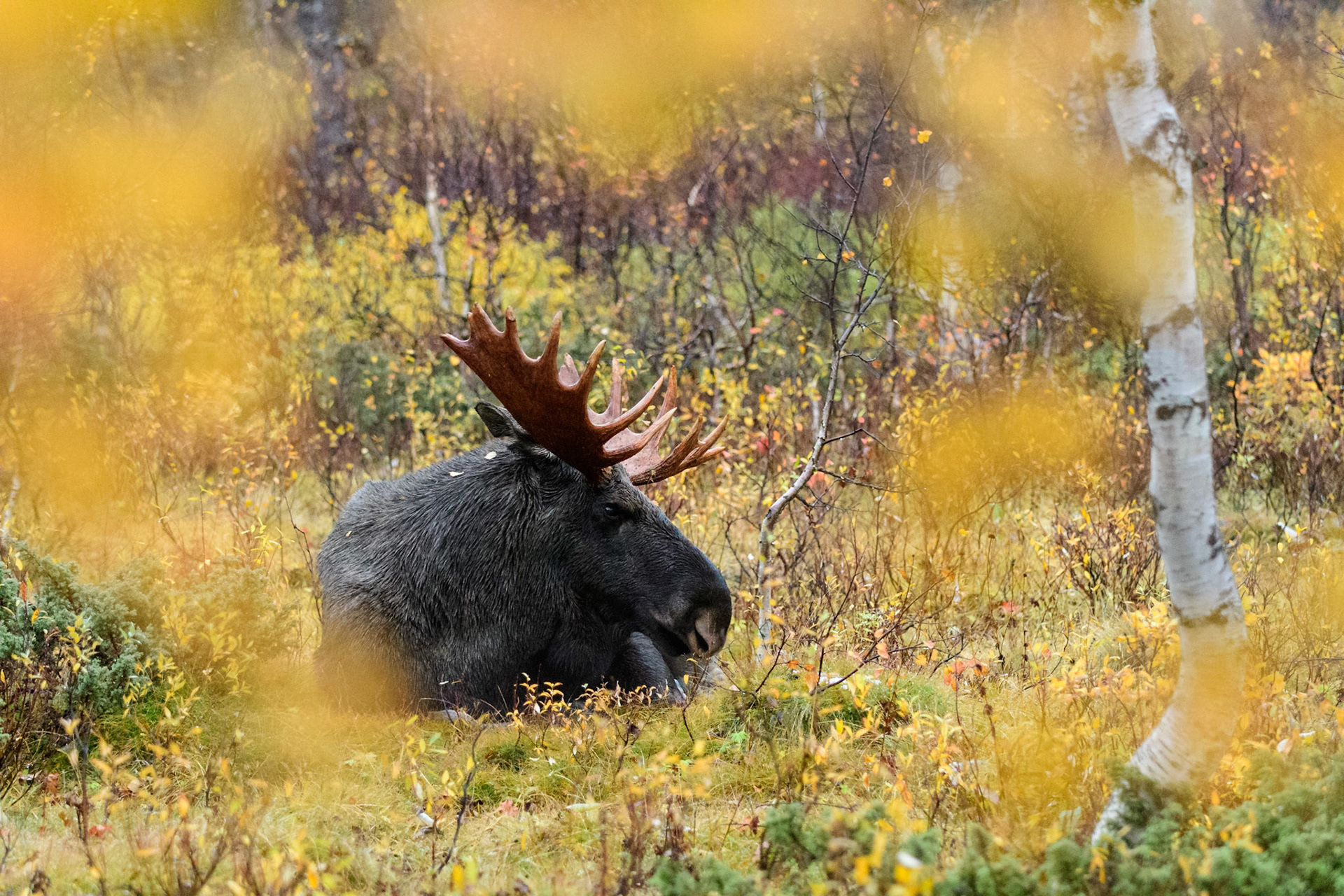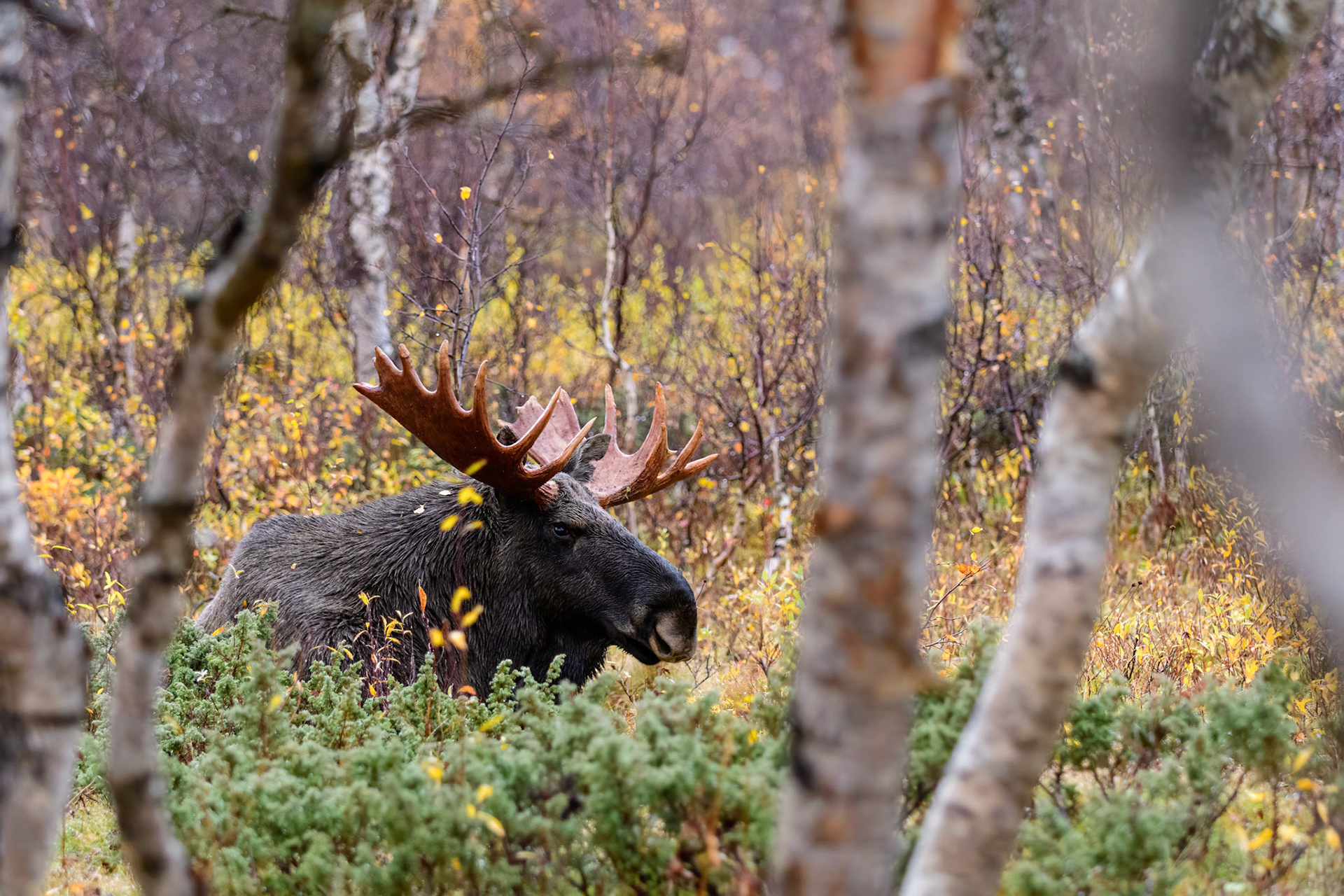 Our lucky day was not over yet. It was an evening with a clear sky and when it was dark the most spectaculair Northern Light show was performed above us. Literally an out of this world highlight. Epic. Surreal. Wunderbar.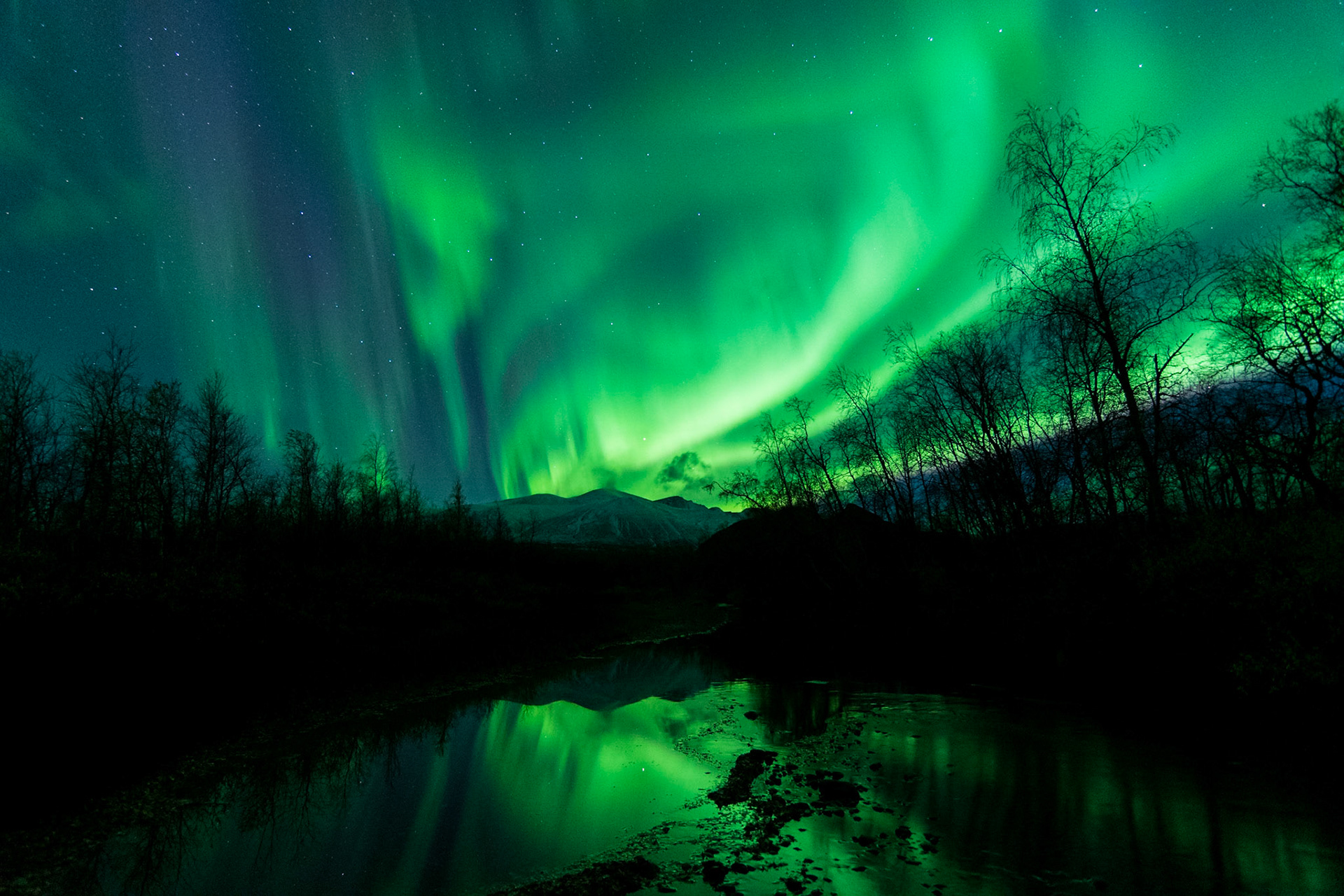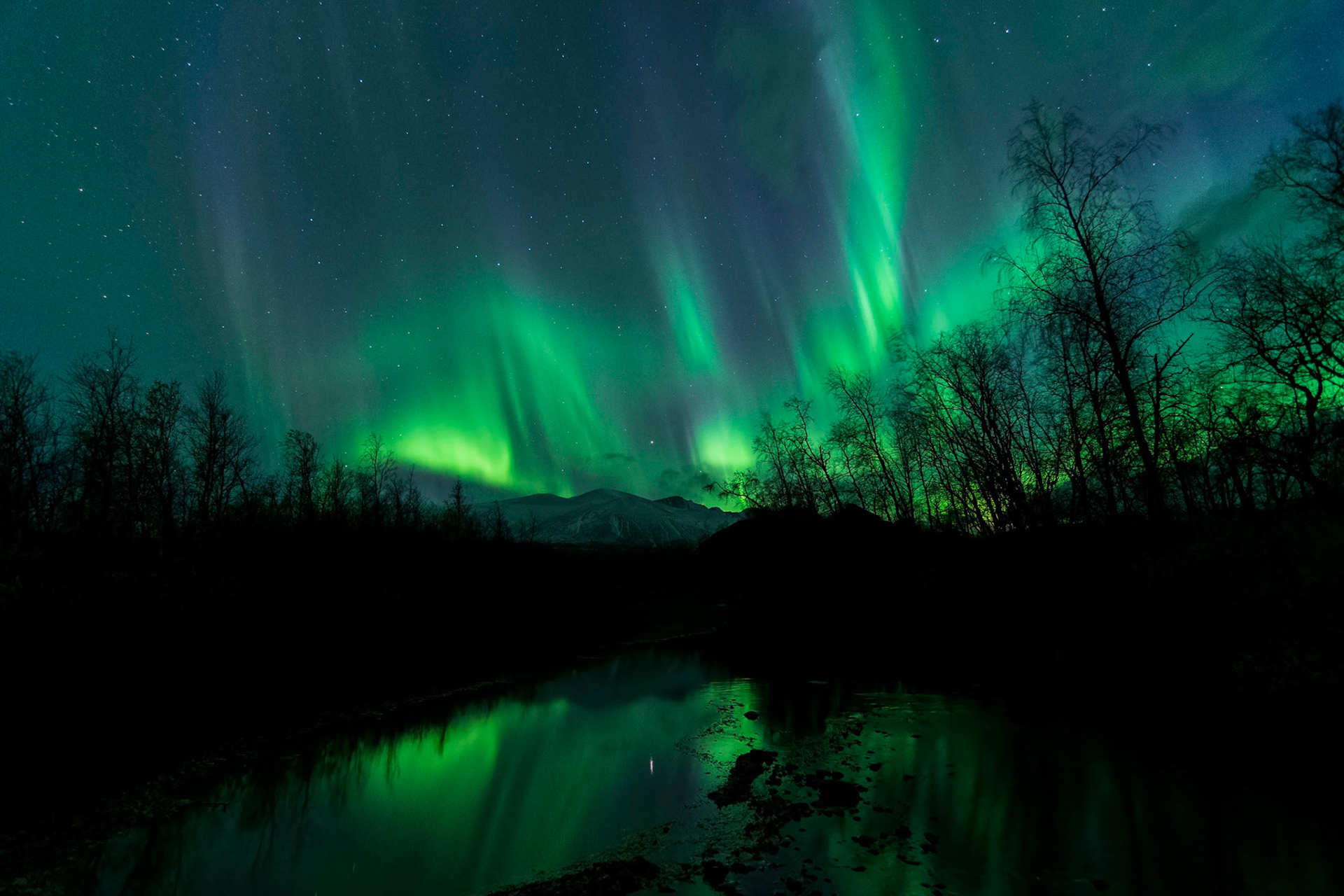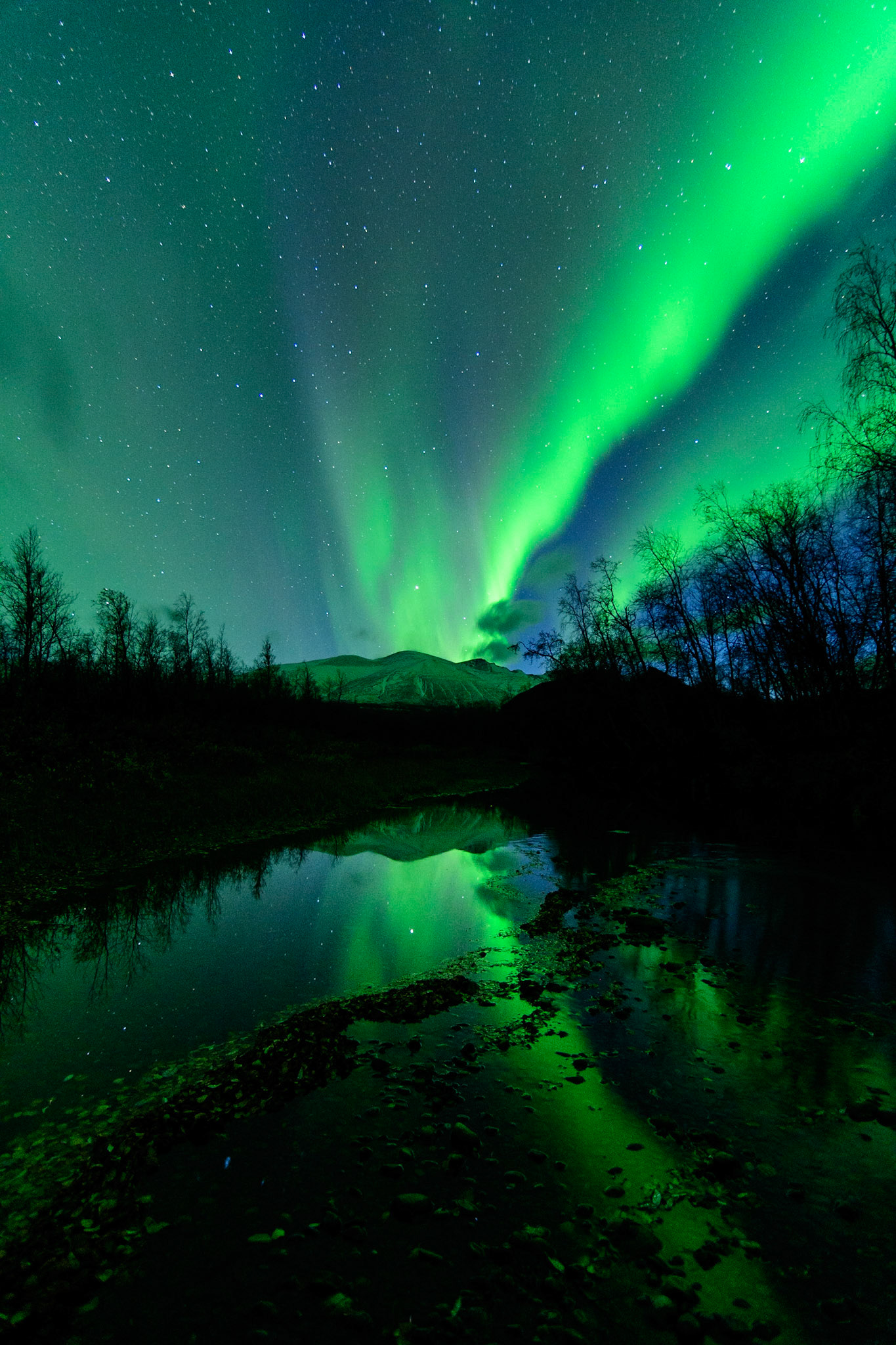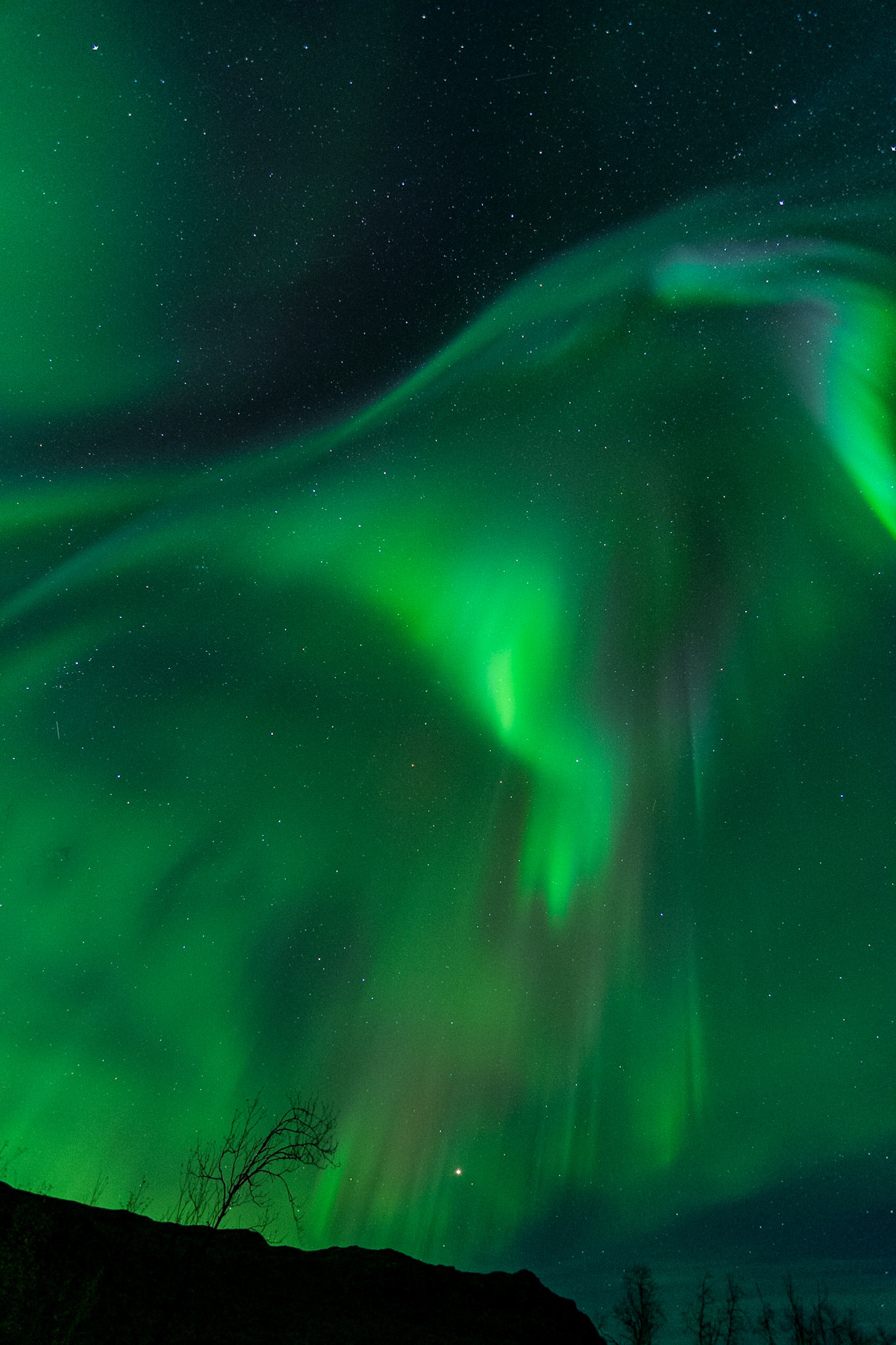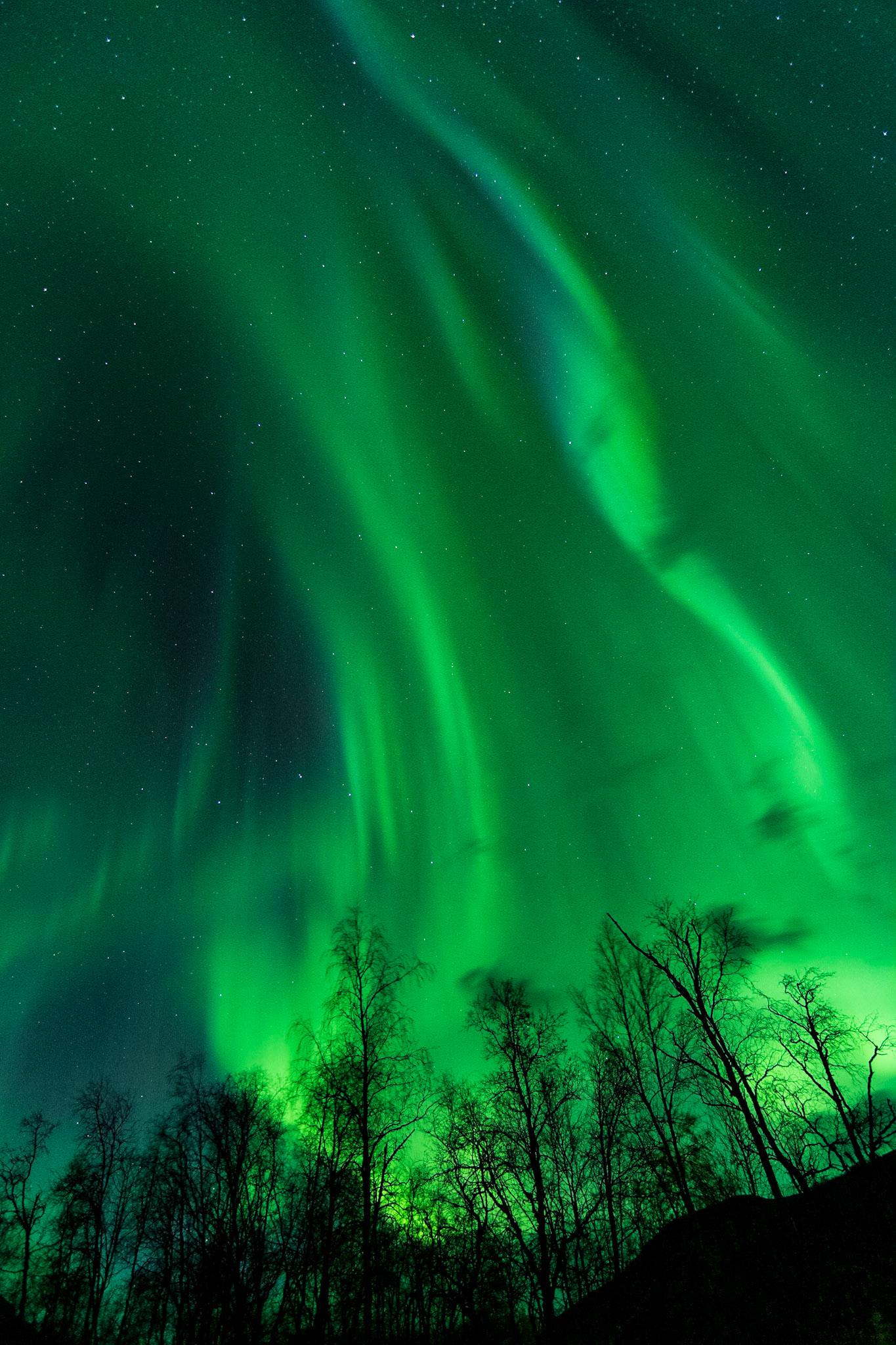 Despite the late night show my friend Arjen and I woke up at 6 am the next morning to check if the moose was still around. He was gone. Probably we had been cheering too loud when enjoying the northern lights and he had moved to a quieter place to sleep. But we had another magnificent view when the first light hit the snowy mountain (Alpenglow).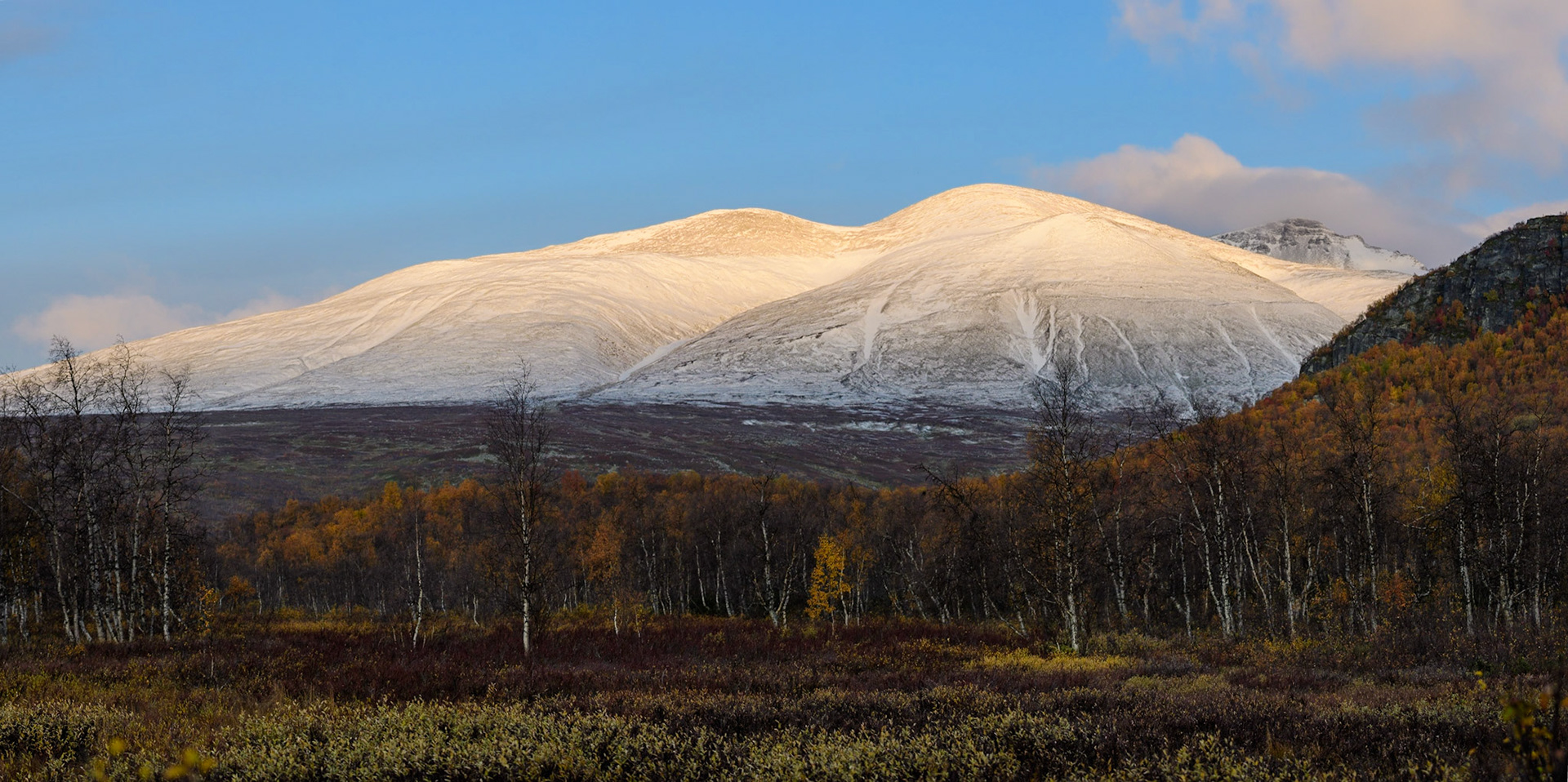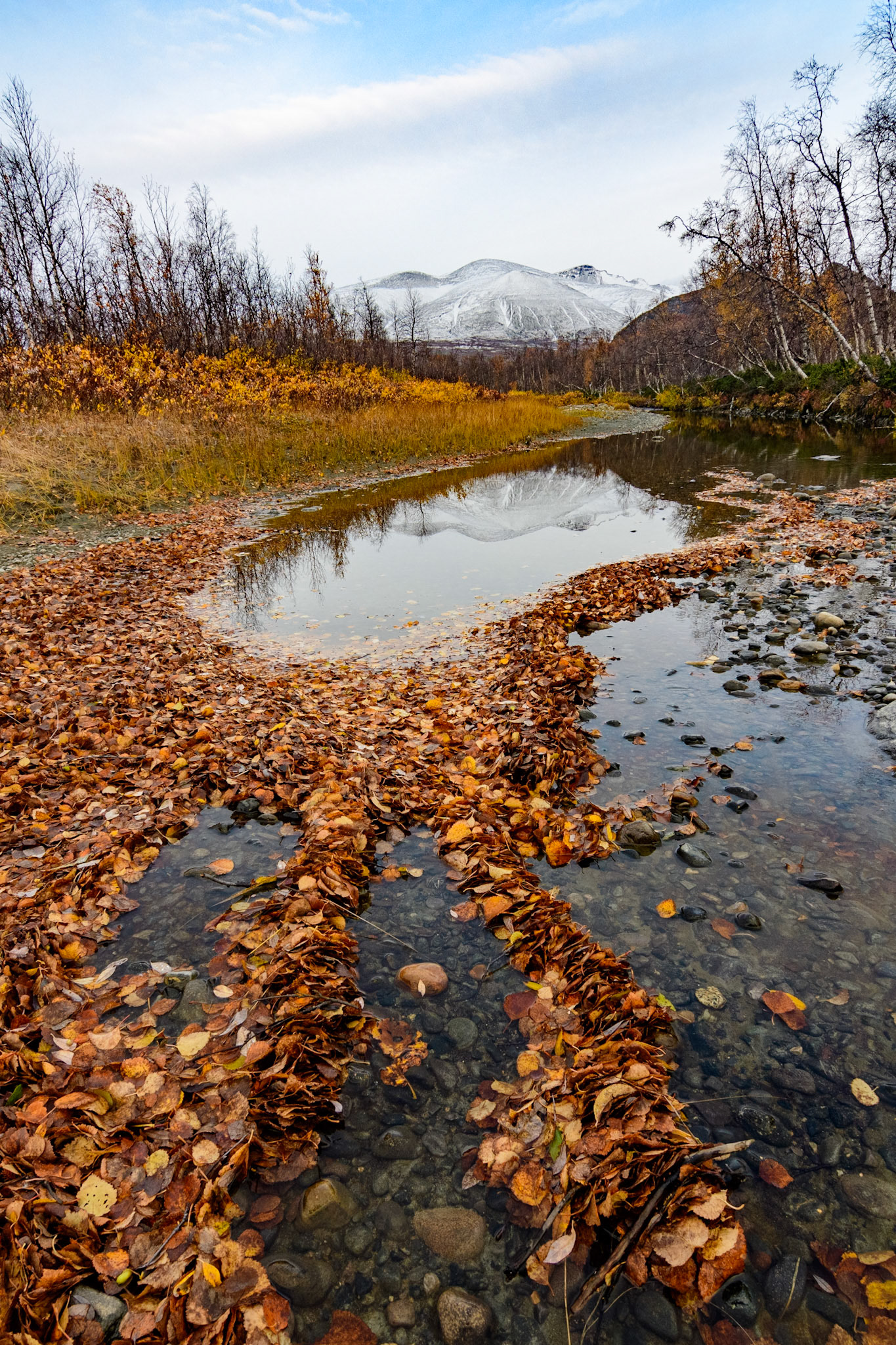 The last day of the expedition was intented for a hike up Nammásj mountain to look down into the Rapadalen delta. However there was only a limited view and within half an hour it started snowing heavily.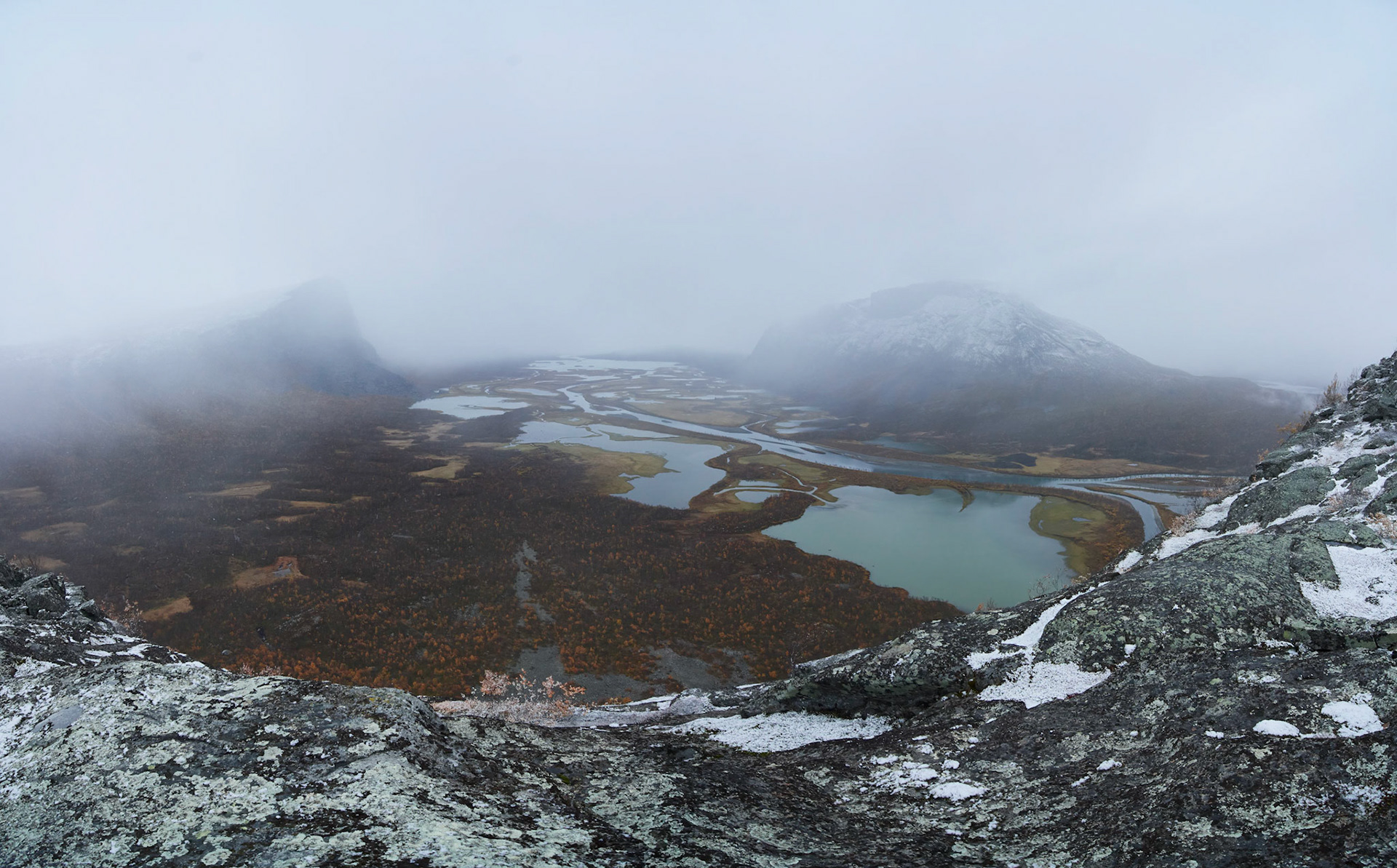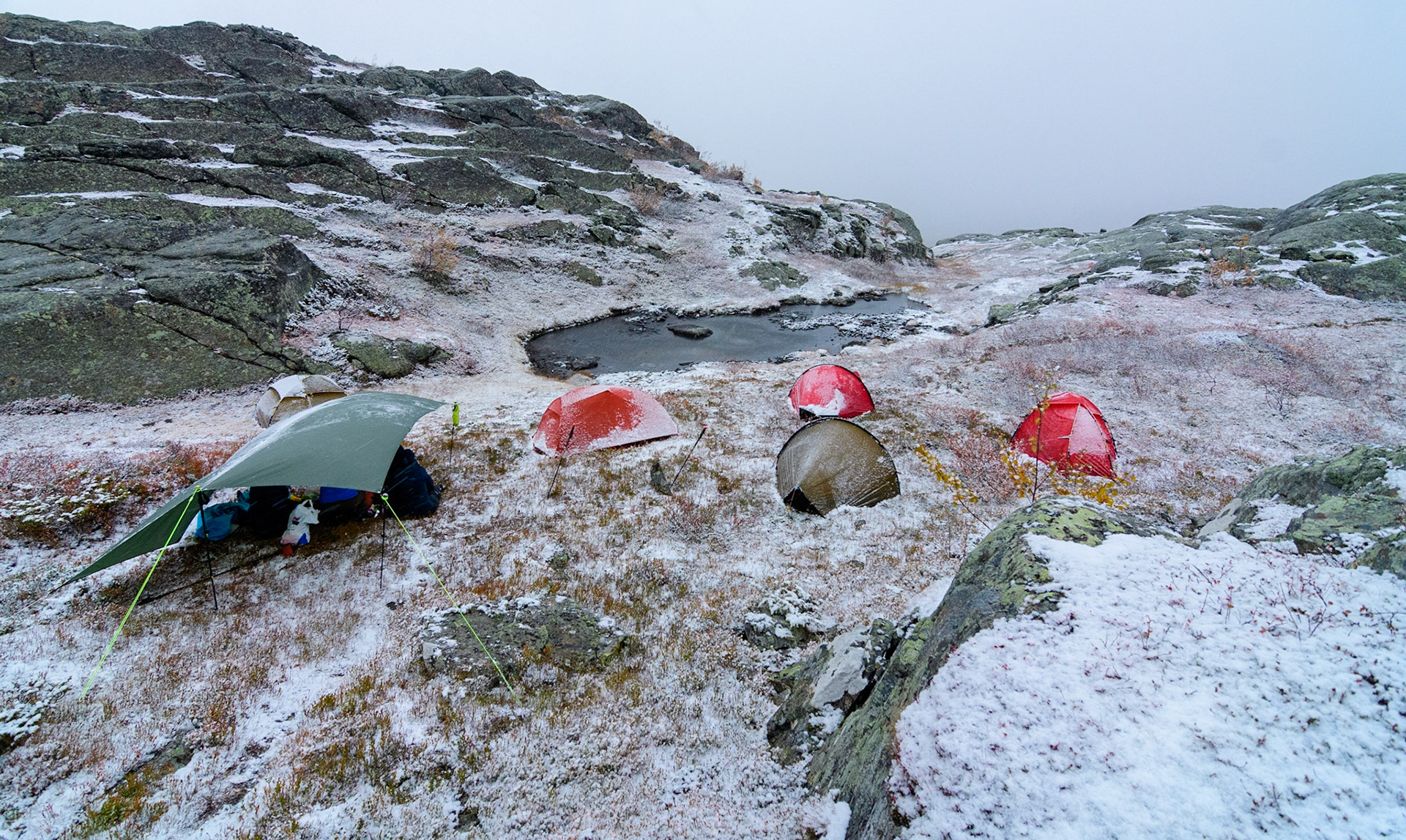 The last day of this adventure was there. It had been snowing during the night and we had to pack our tents and make the slippery and steep hike downhill.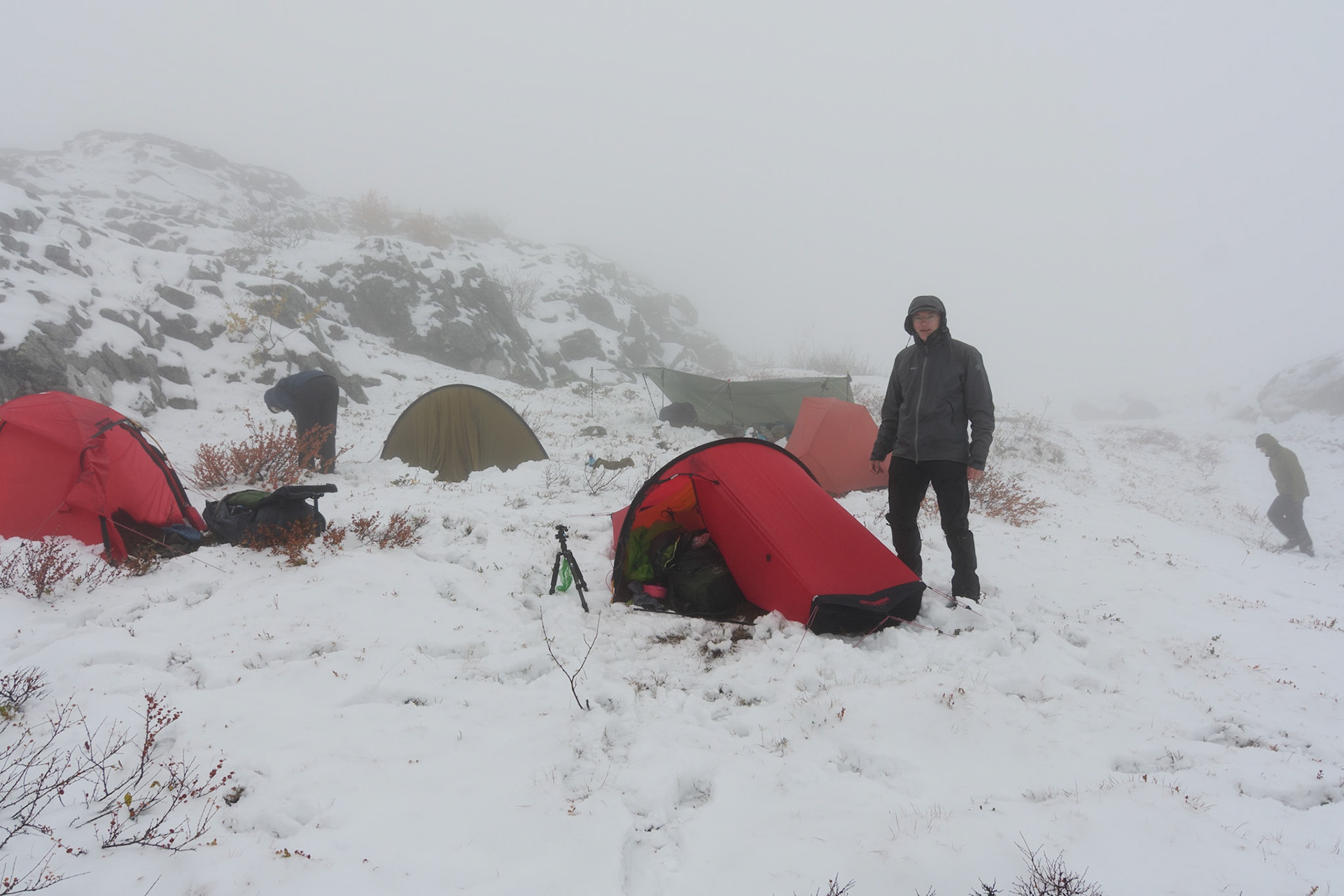 When we all reached the valley safely I had some time and energy to make some pictures again. The patterns of snow on the river banks were absolutely amazing.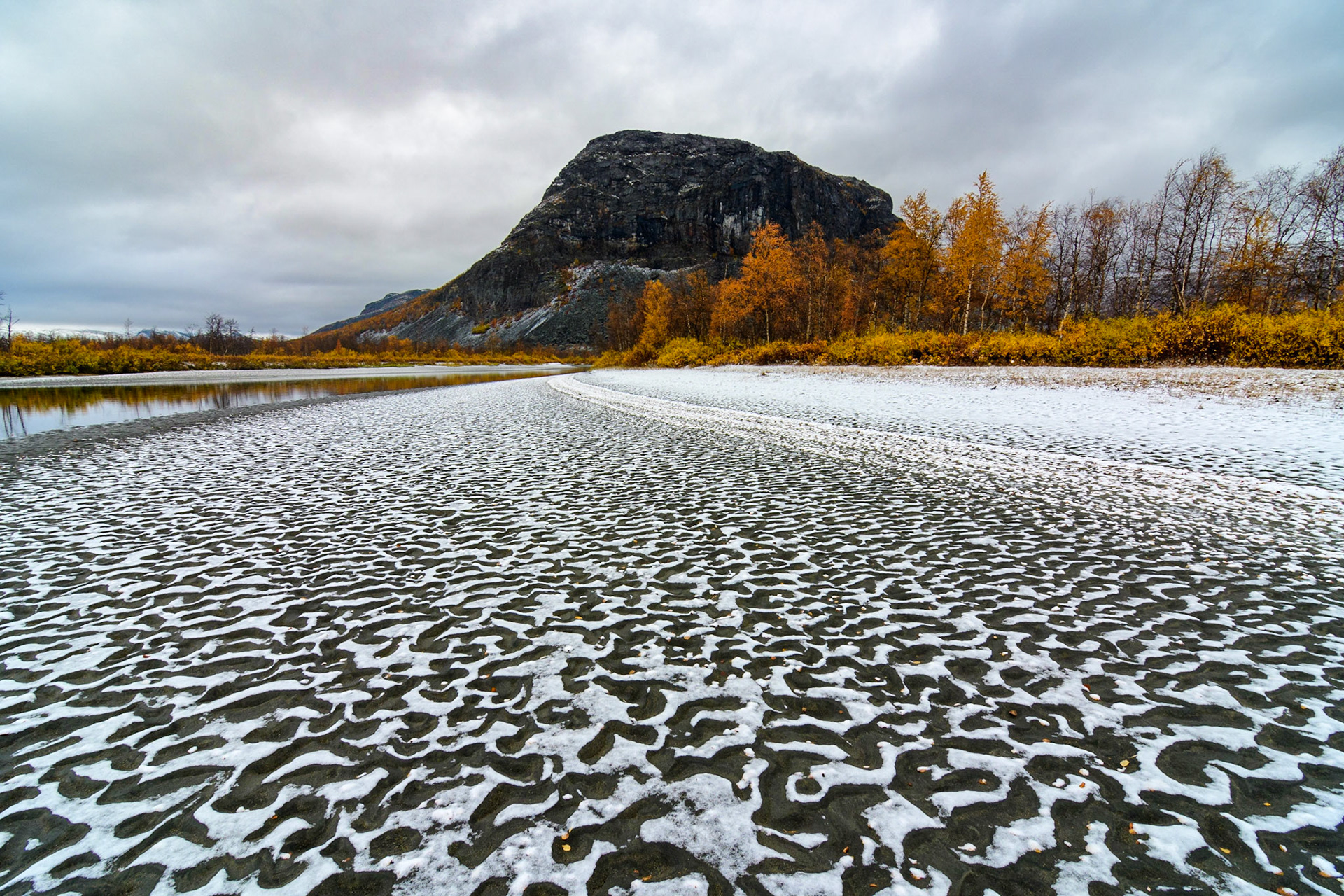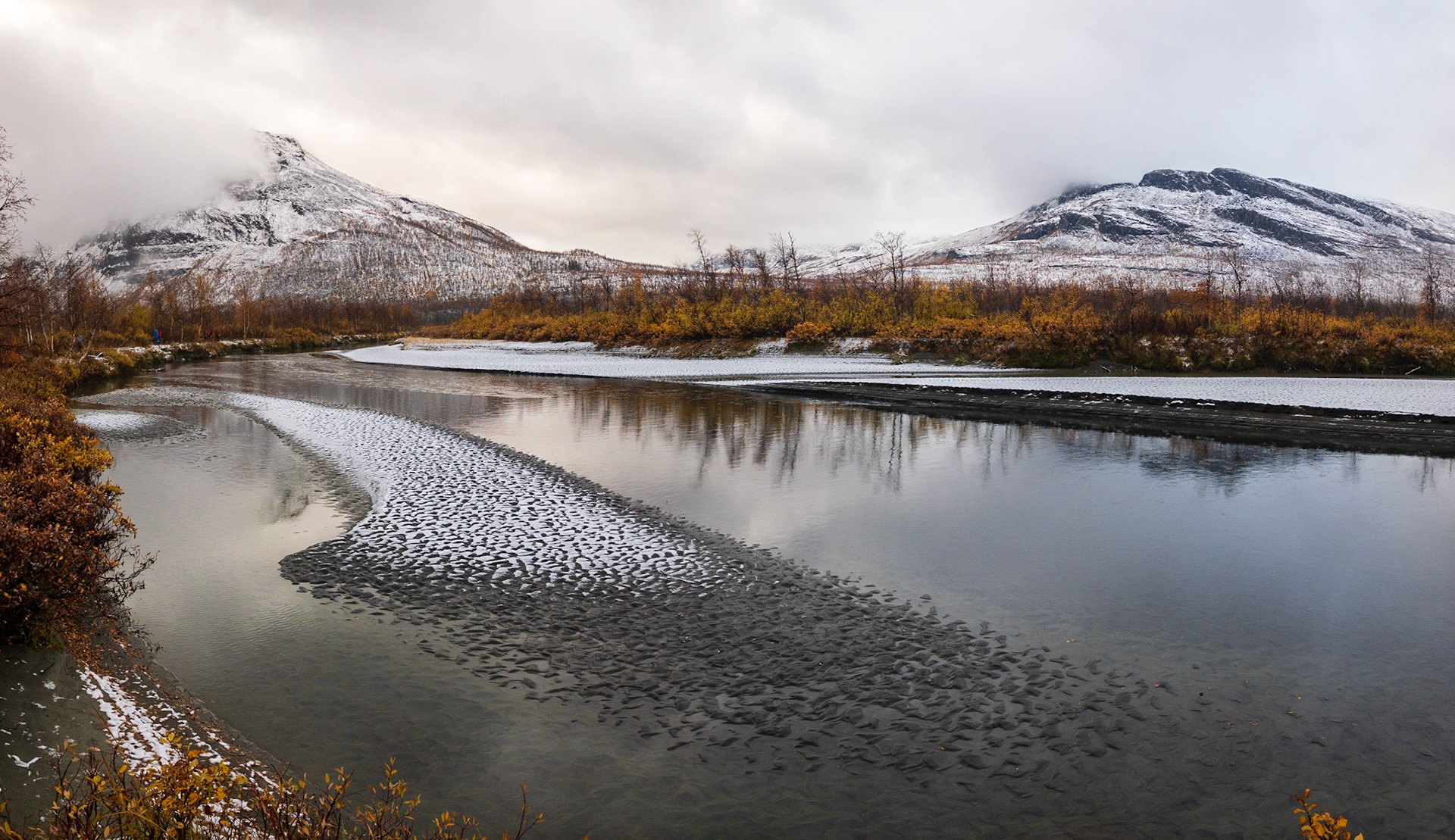 Then we hear a chak-chack-chak-chak fill the air. It sounds strange, the noise of civilisation after so many days of silence. It's the helicopter that's come to bring us back home. I don't want to leave Sarek yet!
The views from the helicopter over the Swedish mountains were astonishing.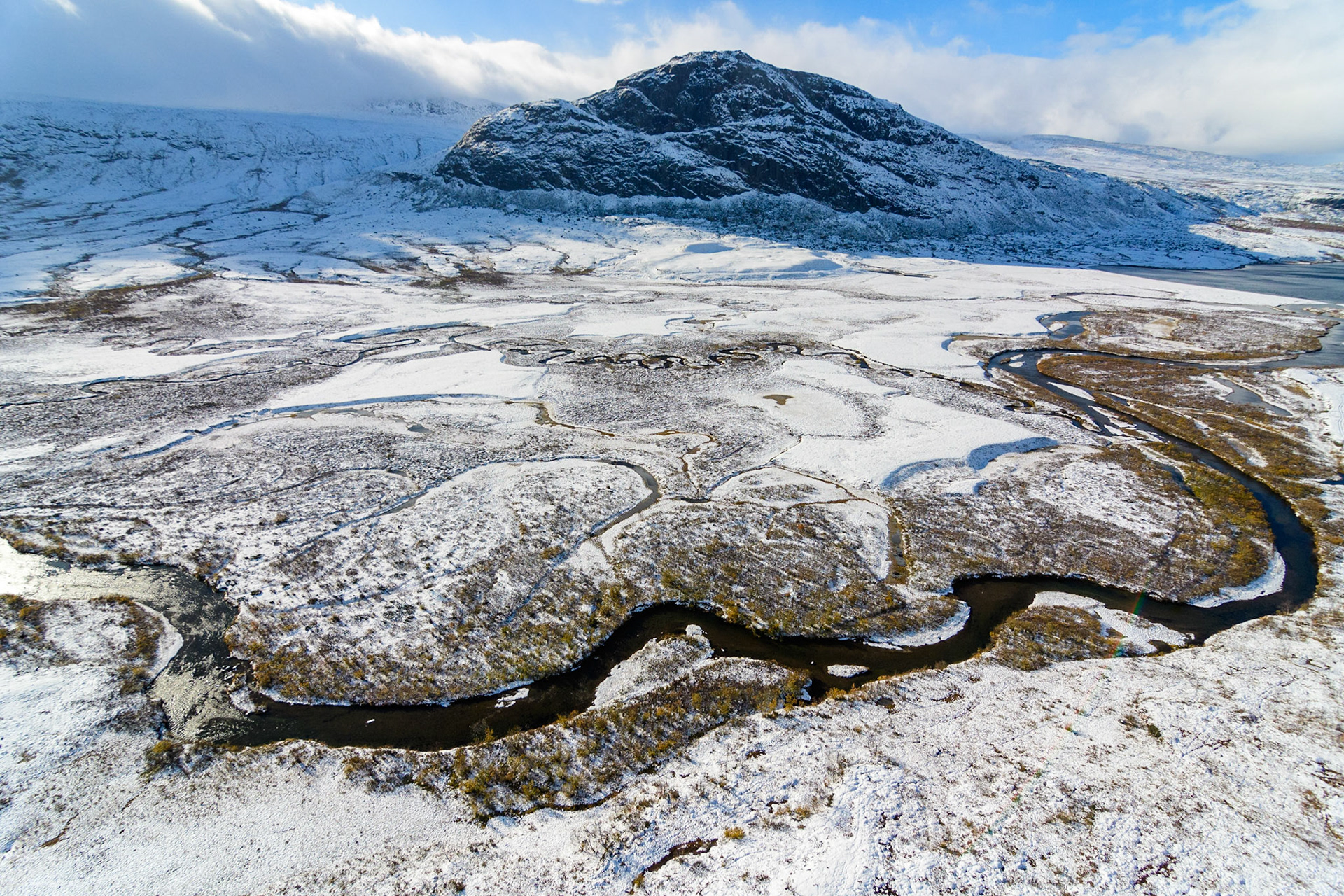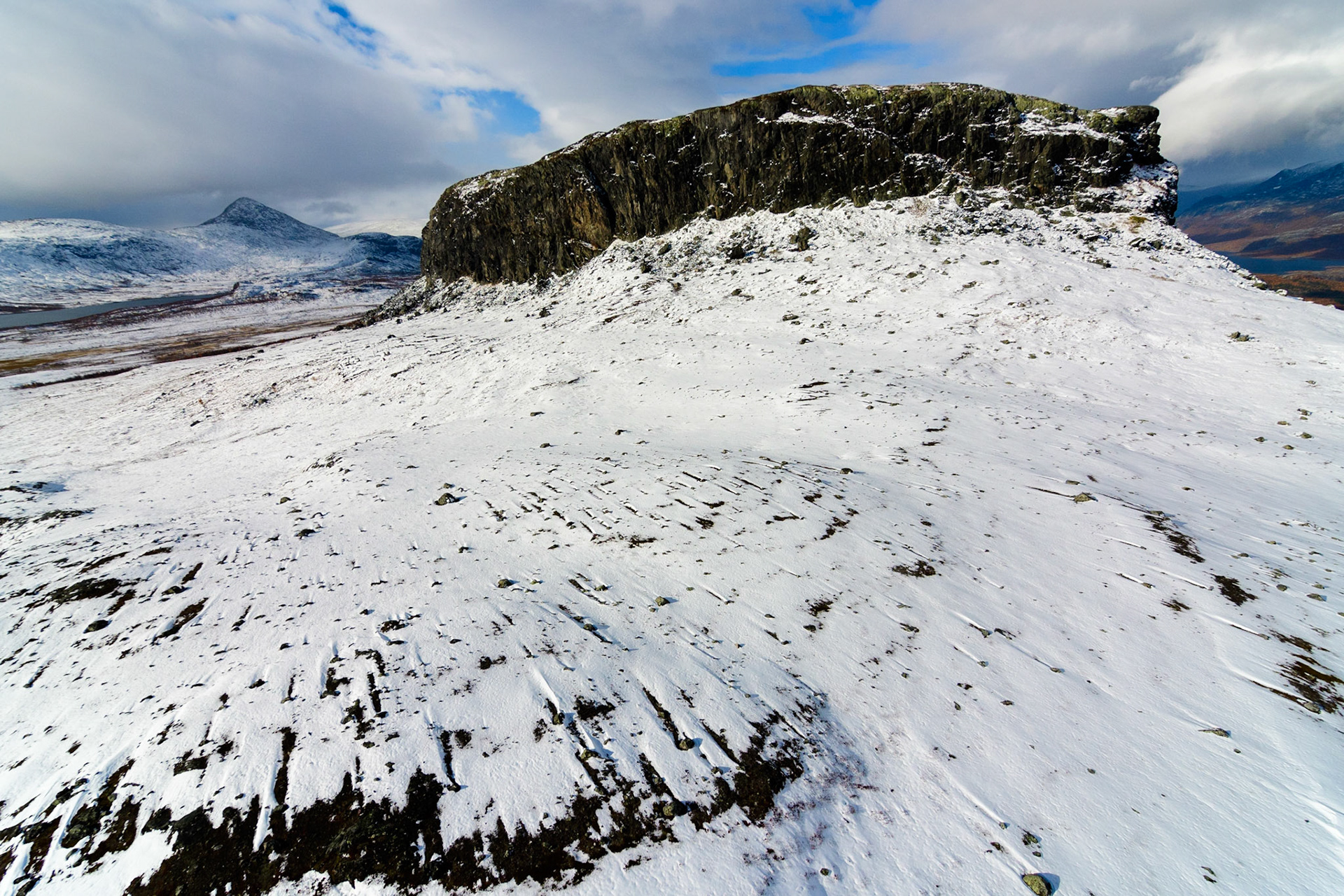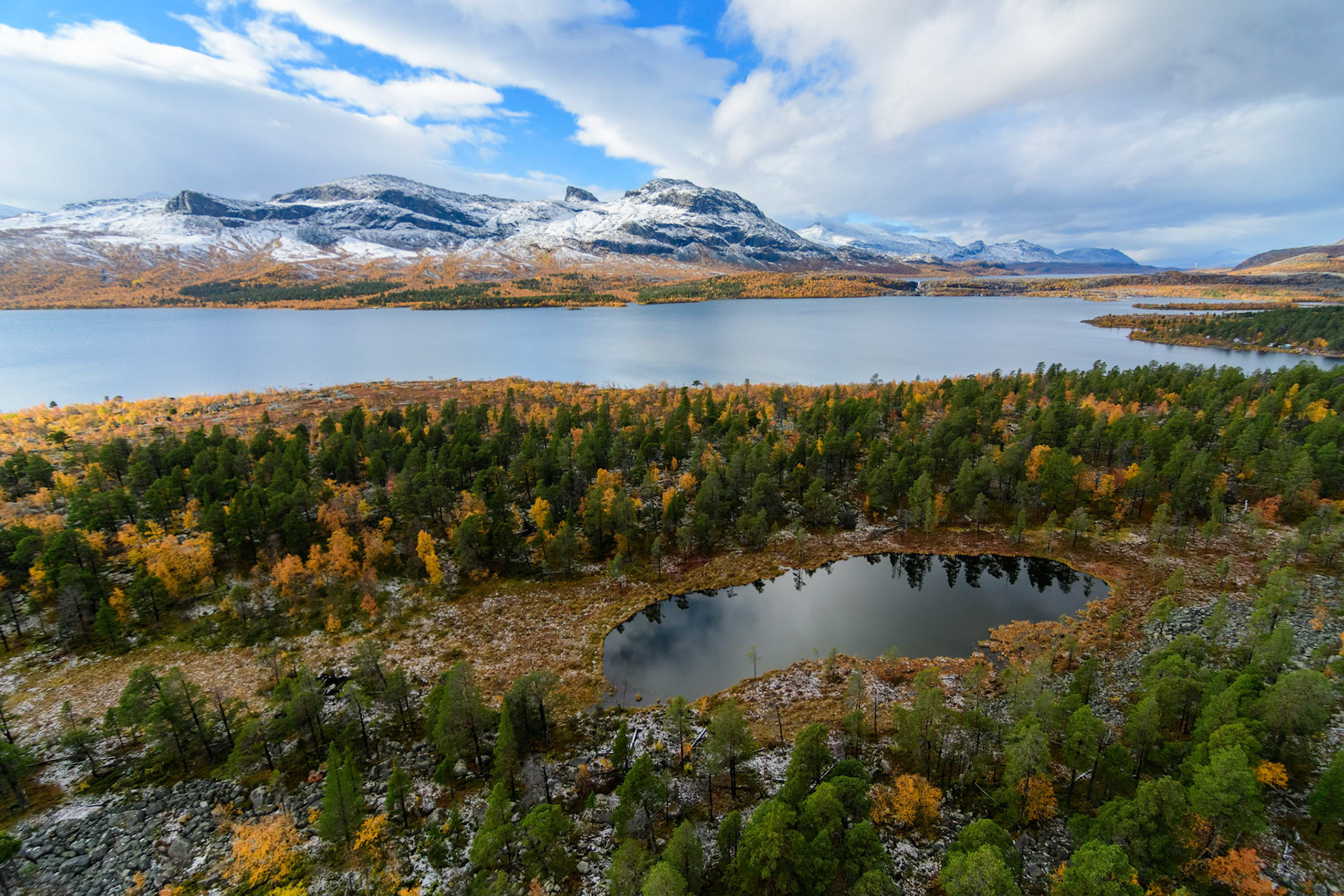 We return to Jokkmokk guesthouse, take off our hiking boots and enjoy a well-deserved shower. Then dinner with wine made by Kaisa. The next day there's a final breakfast and then goodbyes.
Words can't describe what we've just been through together. We started out as strangers, by now we're all good friends who will share this wilderness experience in our memories forever.
I had never done a multi day hiking tour before and I wanted to do this at least once in my life. Also a vist to the magical Sarek was a long time wish. Because this was not a photo tour I only had a minimal set of equipment with me. One camera (Nikon D500), a f2.8/11-16mm lens and a f2.8/70-200mm lens. Together with a small carbon tripod and 5 spare batteries that was still another 5 kg's to carry.
Finally I want to thank Frida at WildSweden, guide Matti and Stina at Jokkmokkguiderna, Kaisa at the Jokkmokk guesthouse Villa Åsgård. And last but not least a big thank you to my fellow team mates Matti, Theda, Bernd, Arjen, Janet, Tomaso and Marco for all the support, teamwork, fun, jokes, chats, kindness and cooperation.
Tack så mycket. It was awesome!